Gnosis, a decentralized prediction platform built on the Ethereum blockchain that uses crowdsourcing as a source for forecasting, has raised $12.5 million in its first initial coin offering.
This initial auction broke records, as the company sold out of 250K Ethereum in twelve minutes, giving it a market cap of $300 million. The company has sold five percent of its tokens for $30 each, the most expensive digital currency ever offered in an initial sale. The offering was said to be over-subscribed with Gnosis turning away $3 million in bids. The majority of investors came from outside of the US.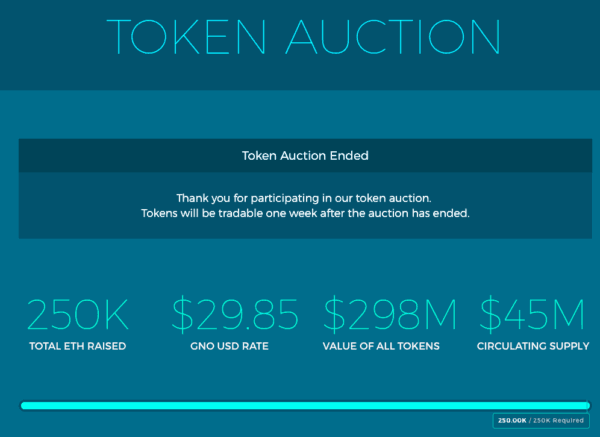 As a decentralized prediction platform, Gnosis allows developers to use the system to create a prediction market for any event, from which people can favor one outcome or another through buying "shares" in the form of Gnosis tokens. The events outcome is determined either by the company's software or manpower, which verifies the real-world outcome and submits it to a blockchain. Those who chose the winning outcome can redeem their shares for money, and those who chose the losing side would likewise lose money.
According to Martin Köppelmann, Gnosis' founder;
"Gnosis is part of a new wave of decentralized platforms, key to which is 'permissionless' innovation. Having an open platform with verifiable behavior introduces an incredible opportunity to bring a wide range of applications onto Gnosis, many of which we never anticipated."
Through collecting information by financially incentivizing good information and discouraging bad information, rather than operating like a traditional poll which would ask participants what they want to see happen, prediction markets ask what participants expect to happen.

The prediction platform consolidates all information sources and therefore quantifies every possible outcome of an event. Gnosis is striving to build and become the world's most efficient forecasting tool.

Sponsored Links by DQ Promote