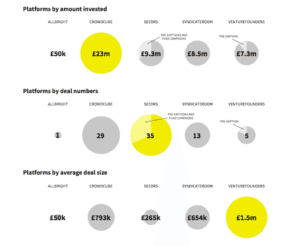 Beauhurst is out with a quarterly report on the status of equity crowdfunding in the UK. According to their numbers, the first quarter of 2017 saw 82 deals raise in excess of £47 million.  How does this compare versus year prior quarter? Good question. It is a bit hard to tell as in reviewing last year's report Beauhurst included a far wider range of funding channels.  Overall, 2016 was a challenging year for investment into early stage companies in the UK. This report is a specifically for a "Crowdfunding Index".
Beauhurst shares the following data points:
The amount invested by platform during Q1:
Crowdcube – £23 million
Seedrs – £9.3 million
SyndicateRoom – £8.5 million
VentureFounders – £7.3 million
Allbright – £50k
The number of deals on platforms during Q1:
Seedrs – 35
Crowdcube – 29
SyndicateRoom – 13
VentureFounders – 5
Allbright – 1
The largest deals during Q1:
Lightpoint Medical – £3.3 million on VentureFounders
Monzo – £2.5 million on Crowdcube
Cocoon – £2.4 million on Crowdcube
Gripit Fixings – £2.1 million on Crowdcube
Idio – £1.9 million on VentureFounders
Beauhurst says that since 2011, there have been 13 exits.
What are the takeaways? Equity crowdfunding continues to evolve and grow. Nothing ever goes up in a straight line. Just does not happen. But the UK is home to the most robust investment crowdfunding market in the world. And that is something that should be encouraged.
The brief report is a quick and interesting read. We hope they continue to publish these reports alongside some comparative data.
The Report is Embedded Below.
[scribd id=348044681 key=key-IhkBnOihuFc1tPH3vWcn mode=scroll]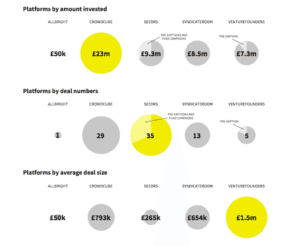 Sponsored Links by DQ Promote