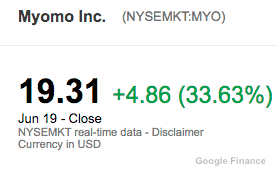 It has been one week since Myomo (NYSE:MYO) became the first Reg A+ issuer to successfully crowdfund and then list on NYSE MKT.  But since listing on the public exchange, Myomo has moved in the right direction.  The shares have rocketed from an issue price of $7.50 / share to over $19.00/ share (at least at this moment).  Volume has remained fairly robust. So what gives? Why the excitement?
Myomo quickly followed the listing with a series of announcements including a presentation at 2017 Marcum MicroCap conference. The Marcum MicroCap Conference is a nationally recognized forum for publicly traded companies with less than $500 million in market capitalization. The same day, Myomo announced they MyoPro 2: the second iteration of their myoelectric arm prothesis or powered arm brace that may restore function to a nerve damaged arm.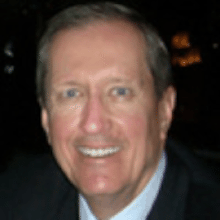 Paul R. Gudonis, Chairman and CEO of Myomo, commented on the release;
"Early in our rollout, feedback from patients, physicians and the orthotics and prosthetics community has been very positive. We look forward to addressing the large unmet need in upper limb paralysis as we continue to bring MyoPro 2 to a larger market."
On Friday, Gudonis was back at the NYSE ringing the closing bell.
Reg A+, created by Title IV of the JOBS Act of 2012, allows issuers to raise up to $50 million in a scaled disclosure environment. Some have heralded the updated exemption as a boost to the IPO market that has been languishing for years. Reg A+ still takes quite a bit of effort to complete. From marketing, to the listing platform and the back office services – this sector of finance remains a bit of a work in progress.
Blaine McLaughlin, COO of VIA Folio, a company that worked with Myomo to complete the Reg A+ offer told Crowdfund Insider;
"We were very pleased to be the clearing broker-dealer for Myomo's Reg A+ IPO, supporting TriPoint Global Equities/BANQ who acted as underwriters and managers for the offering, and congratulate the Myomo team for bringing the first Reg A+ IPO to trade on a national exchange. I'm happy to report that with our integrated, online brokerage, custody and clearing process, we have processed on behalf of the underwriters hundreds of BANQ customer subscriptions and millions of syndicate broker dollars across multiple firms for the first Myomo closing."
Have a crowdfunding offering you'd like to share? Submit an offering for consideration using our Submit a Tip form and we may share it on our site!