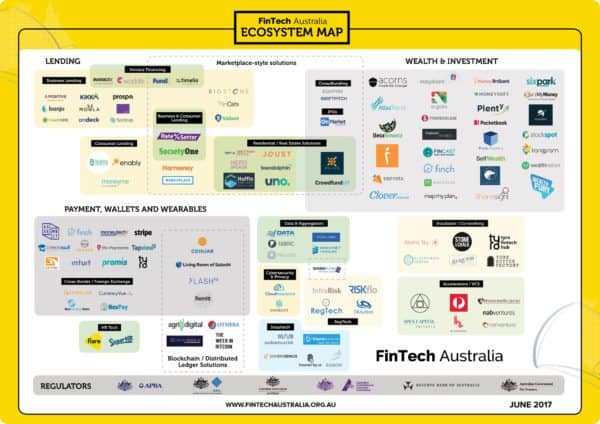 FinTech Australia is out today with a Fintech Ecosystem Map visually representing the ever-changing and growing number of entities participating in innovative finance in Australia. FinTech Australia says it intends on updating the map every six months to keep things current. Currently, the map lists 119 members of FinTech Australia, along with the financial services regulators – an important variable for sector growth.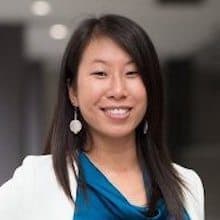 FinTech Australia CEO Danielle Szetho says the map is the best visualization of the Aussie Fintech industry indicating its competitive position on a global level;
"The broad range, depth and quality of Fintechs on this map shows just how far Australia's Fintech environment has come in less than two years. Given that FinTech Australia represents about a quarter of all fintech companies operating in Australia, it is in fact arguable that Australia has a greater number of Fintech companies than Hong Kong and is on par with or close behind Singapore."
The Fintech map shows that wealth and investment, and consumer and business lending, are Australia's two largest Fintech sub-sectors – an outcome that is consistent with findings from last year's EY FinTech Australia Census.
FinTech Australia explains that the strong focus on wealth and investment to some extent reflects the fact that, in 2016, Australia had Asia's largest pool of funds under management – and the 6th largest in the world. On top of that, Australia's US$1.6 trillion largest superannuation (or pensions) market is the fourth largest in the world.
"Many of our Fintechs in the wealth and investment area are run by highly experienced financial services executives, who have left large corporate institutions to begin their own innovative startup companies that are unencumbered by large legacy systems," adds Szetho.
FinTech Australia says the map shows that online lenders are rapidly filling market gaps in both consumer and business lending. Apparently a recent survey found that one in five small-to- medium enterprises are now planning to use non-bank financing, compared to just one in ten in 2014.
"Our business lenders are typically using in-house or third party technology to analyse the financial information of small businesses, so they can then offer the best and fastest possible deals," says Szetho. "They are able to operate in spaces that banks traditionally found hard to service, and are now playing a valuable role helping our small businesses to grow."
Other strong areas of Australia's lending space include invoice financing, peer-to-peer personal loans and also home loan marketplaces that are empowering consumers to get a better mortgage deal on their most valuable assets.

Other growing areas of the Australian Fintech ecosystem, including payments, wallets and wearables, blockchain/distributed ledger, Regtech, Insurtech, data aggregators and cybersecurity.

Sponsored Links by DQ Promote