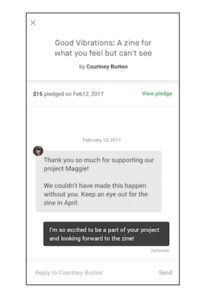 On Friday, Kickstarter announced a new update for its Android app, messaging. The crowdfunding giant's crew revealed that they designed the layout that is similar to the way Android users are used to seeing conversations from their phones.
The Kickstarter team explained:
"To read and respond to your messages, just head to the main menu, visit your profile, and tap the envelope icon. One of the best things about Kickstarter is the connections it builds — the ability for backers to communicate directly with favorite creators who are making amazing things. Our messaging tools are a key part of that, and we're happy to be rolling them out to Android users today."
The team went on to add that the app currently does not allow creators to access messages associated with their projects, but they are working on making changes to that soon.