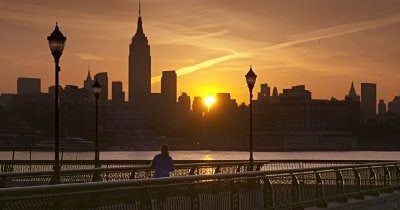 The fourth batch of companies for the NYC's Starta Accelerator includes 13 technological startups that will participate in the acceleration program and receive seed investment, bringing the gap between Eastern European and American tech. The program will start in mid-September and last for 3.5 months.
During the selection process, Starta Accelerator received more than 600 applications from startups from more than 30 countries. 13 companies were selected to pass the acceleration program: 5 from Russia, 3 from Ukraine, 1 from Poland and 4 mixed teams with founders from Georgia, Latvia, the UK and the USA.
"We have gathered an exceptionally strong and balanced portfolio, which is diversified geographically and by industry. We've focused on technologically strong companies – all participants of the program have developed an MVP, and many of them have patents for their own technological solutions – Scorista, DivaOra and others," detailed Ekaterina Dorozhkina, co-founder and director of Starta Accelerator. "A significant number of companies have already received revenues from the sale of their services and all have substantial traction. For example, Spontana's social application has 45,000 users, and the company has localised its application in 9 languages in less than a year."
The portfolio of startups in this fourth batch included companies from the fintech, adtech and greentech sectors, as well as HR, solutions for media and retail and social applications. Projects covering both B2B/B2G and B2C markets are involved. Several startups have based their projects on artificial intelligence tech.
Starta Accelerator aims to aid hi-tech startups to adapt their products to the US market, to find partners and customers, to start earning revenues or accelerate their growth, and to connect with the investor community.
The fourth batch of companies in the Starta Accelerator includes:
Unlevel (Ukaine) – an e-commerce solution for proactive monitoring of card transaction failures and errors.
NativeOS (Russia) – a programmatic service for the automated placement of native advertising based on computer vision.
PitchMe (UK) – a recruitment process and web-based matching service, which connects candidates with employers using AI; includes testing hard skills and ability to solve business problems.
Spontana (Russia) – a mobile application combining dating and passion for fashion/pop culture.
Publico24 (Poland) – 'Spotify for media'.
InspectorCloud (Russia) – an online platform for auditing brand representation in retail outlets based on AI.
Scorista (Russia) – credit risk management for private borrowers and assessment technology.
Axsys (Ukraine) – platform with customer tools for service providers.
Puresine (USA) – manufacture and wholesale of solar panel batteries, accessible and convenient for consumers.
DivaOra (Russia) – manufacture and wholesale of devices of pleoptical influence for prevention and treatment of ophthalmological diseases.
Palatine (US) – a real-time feedback and agile goal management platform for employee assessment based on AI.
Control Shift (USA, Russia) – an interactive media platform and CRM system, which unites startups, entrepreneurs and investors and is focused on the Eastern European market.
Creditor AI (Ukraine) – the first fully automated marketplace based on AI for assignment of unused loan applications by participants of the financial market to each other.
The companies will pitch at a kickoff event at Starta Accelerator on 5 October. The final Demo Day is scheduled for 21 December.

In other news, last week Starta Accelerator launched Token Rockets, an accelerator program targeting startups working with blockchain technology. The training will culminate in a new crowdsale of cryptographic tokens for each of the startups.

Sponsored Links by DQ Promote