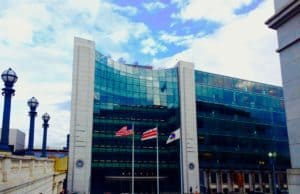 The Securities and Exchange Commission (SEC) has scheduled the next meeting of the Advisory Committee on Small and Emerging Companies (ACSEC) to take place on September 13.  As part of the agenda, ACSEC will discuss the Sarbanes-Oxley Act auditor attestation requirement and explore whether updates are needed to Securities Act Rule 701, which many companies use to provide stock and option awards.  ACSEC also will vote on a final report that would be issued before the committee's charter expires on September 24. The complete agenda is published below.
The meeting will begin at 9:30AM at the SEC's headquarters at 100 F Street, N.E., Washington, D.C., and is open to the public.  The gathering will also be webcast live on the SEC's website and archived on the website for later viewing.
Agenda
9:30 a.m. Co-Chairs Call Meeting to Order
Introductory Remarks
10:00 a.m. Auditor Attestation Report under Section 404(b) of the Sarbanes-Oxley Act
PresentationsWilliam J. Newell, Chief Executive Officer, Sutro Biopharma Inc.
Leonard L. Combs, PwC, U.S. Chief Auditor
Committee Discussion
11:30 a.m. Final Report of the Advisory Committee to the Commission
Discussion and Vote on Adoption
12:30 p.m. Lunch Break
2:00 p.m. Awards Pursuant to Written Compensatory Benefits Plans – Should Securities Act Rule 701 Be Updated?
PresentationChristine McCarthy, Partner, Compensation & Benefits, Technology Companies Group, Orrick
Committee Discussion
3:30 p.m. Adjournment