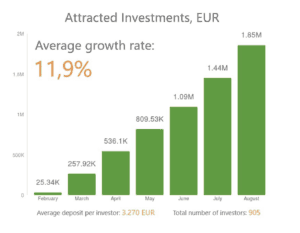 Robo.cash, an automated peer to peer lending platform that includes a buyback guarantee, is reporting steady growth during the period from March 1st to August 31, 2017.
The young lender says the total amount of investments now exceed €1.8 million. Approximately €400,000 in loans were added in August. The average invested amount per investor gained 2.2% to the previous month at €3,270 in August. In regards to the number of investors using the platform, in August Robo.cash added 188 users. Currently, there are more than 900 investors in total who have joined the platform in the first six months of operation.
Robo.cash says that approximately €50,000 in interest has been earned by investors since launch. Investos may earn up to 14% per year in interest.
Robo.cash operates in the Europe and is  part of an international financial holding group with affiliated companies in Spain (Prestamer.es), Russia (Zaymer.ru, FinTerra) and Kazakhstan (Zaimer.kz). The group specializes in products: Pay Day Loans and Installment loans.