Following the numerous allegations of sexual harassment, sexual assault and rape against former film executive and producer, Harvey Weinstein, actor and musician Corey Feldman launched a crowdfunding campaign on Indiegogo to raise $10 million for his new documentary that exposes alleged pedophiles in Hollywood.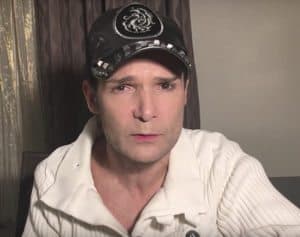 Feldman, who is known for his roles The Goonies, Stand by Me, and The Lost Boys, shared details about his childhood in Hollywood in his book Coreyography. The book revealed there were predators in Hollywood but did not mention who they are/were. Now, Feldman is ready to expose them through the upcoming documentary. 
"People have long awaited a response from Corey as to what exactly happened in his childhood alongside best friend Corey Haim. In his book, Coreyography, Corey describes what happened but it isn't clear who exactly the predators are. The best way, he feels, in order to tell the whole story, is for Corey to come forward in the form of a film about his life. We are embarking on a dangerous and exciting journey to get to the bottom of the truth. However in doing so there are great security risks."
Feldman stated he hopes that by doing this documentary, he will be able to bring down, potentially, a pedophile ring that he has been aware of since he was a child actor. Unfortunately, upon announcing his plans to film the documentary, Feldman experienced various incidents, including being arrested and potential murder attempt. He stated in the campaign's video:
"Ever since I even discussed the fact that I had this plan, my life has turned into utter chaos. I've experienced things like never before — I mean, I've been silenced my whole life, but just over the past few days since I made that announcement, I've been arrested, I had a near-death experience last night where I felt like I was almost going to be killed."
Feldman, along with his wife Courtney Mitchell, explained they are asking for the funds to fight back against the Hollywood system. Mitchell shared:
"This is much bigger than raising finance for a film, this is about the balance of Good and Evil in very real terms.  Ever since Corey announced he was working on a plan to come forward with more information, he has been arrested, had a near death event, and his band quit with no explanation other than saying they were afraid to continue.  Corey and I fear for our safety, and we need protection to get this truth out.  To do this in the way Corey envisions it will take both time and money."
Mitchell also noted that in order to make a true Hollywood Blockbuster these days the studios are spending upwards of $150,000,000 on average.  She and Corey are asking for less than a tenth of that to make a top-level quality film that will be guaranteed as a theatrical release.
"We can protect ourselves with security and a legal team as we fight to tell this story and pay for the films production, editing, marketing, and distribution. This 1 time fee covers the whole process start to finish, and will pay for our families protection and security, while we go through this very difficult, painful, and scary process.  It will also cover initial legal fees."
Since its launch earlier this week, Feldman's campaign has secured nearly $100,000 from more than 1900 backers. The campaign is seeking flexible funding, which means even if the $10 million target is now achieved, the project will still receive funds. It is set to close at the end of December.

Have a crowdfunding offering you'd like to share? Submit an offering for consideration using our Submit a Tip form and we may share it on our site!

Sponsored Links by DQ Promote