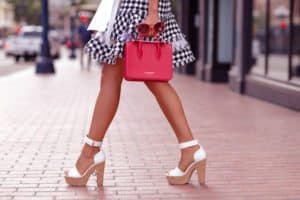 Two years ago, Strathberry of Scotland was a Scottish startup looking to create an iconic UK brand in the luxury handbag space. The company leveraged the Kickstarter pre-sale platform to boost exposure for the small company raising £122,000 on a £25,000 goal. The Edinburgh based company produces small, handmade batches of fashion products that sell only in high end retailers.
The Meghan Markle Effect
This week, Strathberry hit the big leagues as a Strathberry tote was widely seen being carried by Meghan Markle, Prince Harry's fiancee, and likely the most photographed person in the world right now.
Started by a husband and wife team, Leeanne and Guy Hundleby, a company spokesperson discussed their good fortune with the DailyMail;
"We are thrilled and honoured to see Meghan Markle carrying our Strathberry midi tote in tri-colour burgundy/navy/vanilla. We are delighted at the news of her and Prince Harry's engagement, and wish them all the best for this exciting period. It was a fantastic surprise to see that Meghan selected one of our core Strathberry styles to carry on her first royal engagement. The Strathberry midi tote tri-colour is now sold out and will be restocking soon. People can sign up for notifications on our website."
So it looks like there is no longer a need for those Holiday discounts that Strathberry was recently offering. Unintentional product placements like Strathberry has just received is marketing gold. Having the royal to be seen with a Strathberry handbag should drive interest in their products for many months to come.