On Wednesday, UK peer-to-peer lending platform RateSetter released its accounts for the year ending on March 31, 2017. The online lender reported that revenues were £23.7m, up 38 percent from 2015-16; loans under management grew by 23 percent, from £581m to £714m; the number of active lenders grew by 36 percent from 31,036 to 42,049; and, over the same period, the number of active borrowers grew 27 percent from 161,000 to 204,000.
"The results show a pre-tax loss of £23.3m, compared to £5.3m in 2015-16. The platform's operating loss for the year was £9.2m, of which £7.8m relates to the core RateSetter business. Both are in line with expectations and reflect continued planned investment to lay the foundation for future growth of the business. The remainder is a goodwill impairment arising from a loan to a business which subsequently got into financial difficulty. As this loan was outside RateSetter's credit policy and was an exceptional case, RateSetter believed it was right for it as a company to absorb any losses from this loan, as opposed to the Provision Fund doing so."
RateSetter also noted that shortly after the 2016-2017 year ended, it announced it completed a £13 million equity raise, with backers including Woodford Investment Management and Artemis. The raise valued RateSetter at £195 million. In July 2017, Paul Manduca took up his position as RateSetter's non-Executive Chairman and, later that month, the platform achieved £2 billion cumulative lending since launch. In October 2017, the lending portal secured full regulatory authorization from the Financial Conduct Authority (FCA).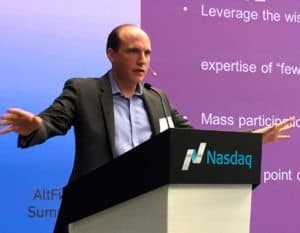 Rhydian Lewis, RateSetter's CEO and co-founder, commented:
"The last year was an important one for RateSetter: we showed that we are a resilient business, with the strength and maturity to deal with challenges and emerge stronger as a result. "During the year, we decided to focus on higher quality credit. Our view is that durability through a cycle is the key test and, while lower quality credit is still valid, it is clearly more vulnerable in a downturn. Since March 2017, our core business has continued to grow well. We have passed the milestone of £2bn total lending and returned over £85m in interest to our growing number of lenders. We were also pleased to achieve full authorisation from the FCA in October."
Lewis then added:
"As we go into 2018, we are very confident that the investment we have made over the last two years provides a strong foundation from which we can efficiently grow our business. We will launch our ISA before the end of the tax year and expect to attract £500m within a year. We expect to return to profitability next year."
Sponsored Links by DQ Promote