Devotion Vodka aims to reach consumers looking for a sugar-free, gluten-free, American-made option, the brand is currently available in 8 states, with the mission to go national.  Enter Wefunder. The Red Bank, New Jersey-based brand has partnered with Wefunder for a Reg CF to raise a minimum goal of $300K, with an ultimate goal $1.07M for securities equal to 2.0%.  Since its recent launch, Devotion has raised just over $15,790 from over 38 devotees. The company has been pre-money valued at $24.9M; shares are offered at $1.48 with a minimum Wefunder campaign investment of $148.
[clickToTweet tweet="Cheers! @DEVOTIONVODKA @wefunder #SugarFree #GlutenFree #GlutenFreeVodka #AmericanMade @crowdfundinside" quote="@DevotionVodka is the first and only gluten-free, sugar-free, American-made brand of vodka."]
Funding will be used for expansion of the brand:
"We are licensed in 22 states, but until the funding kicks in, we are choosing right now to focus on the states where we're having success. We're very strong in the northeast. We're powerful in Rhode Island, Massachusetts, New York, New Jersey, and Pennsylvania. We still have a strong presence in Nevada and California. Then we have a presence in Florida, Delaware, Maryland, Arizona, and Colorado. With the funding, we're going to take our formula for success that we've had over in the northeast, California, and Nevada, and we are going to repeat it in the other states that we're licensed in. For the next year, the plan is to add seven more states."
Why Devotion Vodka?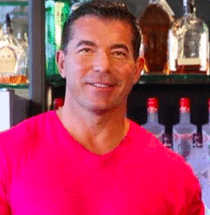 "Devotion Vodka is the first and only gluten-free, sugar-free, American-made brand of vodka. That means we're the only flavored vodka out there that is sugar free & gluten free and has it printed on the bottle. There's a big myth in this industry that all vodka is gluten free. It's not. The Alcohol and Tobacco Tax and Trade Bureau is the governing body that controls what's put on the label of the bottle," explained Devotion Vodka on its campaign. "A vodka isn't really gluten free unless it's actually printed on the bottle, which means it's TTB-approved. A lot of vodkas are NOT gluten free because they only use a portion of a gluten free grain such as corn or potato, then they add mixed neutral grains into the distillation process to cut costs which in effect cuts quality. Devotion Vodka is made of 100% high quality corn, which makes us gluten free with the stamp from TTB to prove it."
[clickToTweet tweet="[email protected] @wefunder #SugarFree #GlutenFree #GlutenFreeVodka #AmericanMade @crowdfundinside" quote="Booze News: @DevotionVodka Reg CF Crowdfunding Campaign Now Live"]
Founded by CEO Andrew Adelman in 2009, Devotion has sold over one million bottles nationally. Other encomiums include:
Named the "Rising Star" Growth Brand Winner in 2014, 2015, 2016, and 2017 by the Beverage Information Group.
Named a Top 50 Spirit in 2014 by Wine Enthusiast.
Named Gluten Free Vodka of the Year at the 2016 New York International Spirits Competition.
National Chains includes Whole Foods, Wegmans, Publix and Sam's Club
Distribution Network includes Fedway, SGWS, Youngs Market and MS Walker
Named Breakout Brand of the Year in 2014 by Beverage World Magazine
Wine Enthusiast – 92 Rating, 91 Rating -2014
Beverage World – Breakout Brand of the Year – 2014
Approval the TTB to print – "Gluten-Free" on the bottle – 2013
Approval the TTB to print – "No Added Sugar" on the bottle – 2012
Micro Spirits Award– Triple Gold Medal for Bottle and Taste – 2012
"We wanted to come up with something that was a lifestyle brand and had different characteristics than any other spirit on the market. The key to success in business is to find a void and filling it. With the ongoing trend of healthier ingredients and labeling in the food and beverage industry, most notably with Whole Foods, we saw a void in the spirits industry where these two market drivers were not being tapped into," added the campaign regarding its tagline "It's What's Inside that Counts." "The spirits industry actually goes the complete opposite direction without even mandating full ingredient labels or nutritional contents. We saw this void, focused in on it, and began creating the highest quality spirit on the market with labeling approvals proving what our products bring to the table. It's not an easy task, but we hold our brand to the highest standards.  Our mission statement is, "It's what's inside that counts" but to our customers, it's not just about quality, it's about our transparent labeling on the bottle that has them believing in our mission to change the industry."

Campaign investor perks include Devotion Vodka T-shirts and hats and bottles of Devotion Vodka.  Fo more information, please click here.

Have a crowdfunding offering you'd like to share? Submit an offering for consideration using our Submit a Tip form and we may share it on our site!

Sponsored Links by DQ Promote