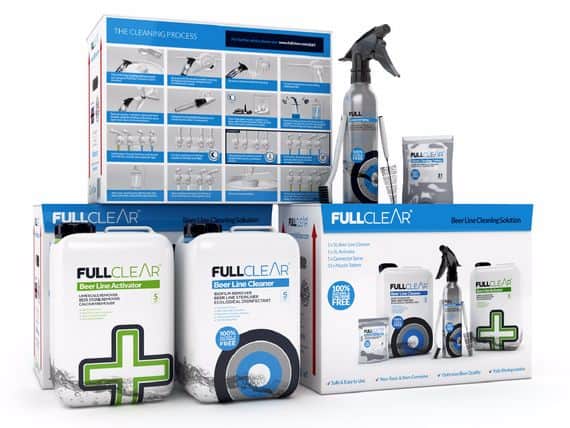 FullClear, a UK-based beer line cleaning solution startup, has successfully secured its initial £250,000 funding target from 230 investors through equity crowdfunding platform Crowdcube. The campaign was launched earlier this month. The company describes itself as an advanced beer line cleaning solution that is non-toxic and non-corrosive. FullClear reported it is proven to be 96.7% more effective than current chemicals.
"Our experience has taught us that bars clean weekly, wasting the beer in the lines each time, using ineffective, toxic and corrosive chemicals which damage the system. In some cases, poisoning and seriously injuring customers – http://www.bbc.co.uk/news/uk-england-leeds-35253155. Line cleaning is unregulated and is estimated to cost the industry almost £1 billion in labour, wastage, and lost sales. FullClear aims to return £700 million of this back to retail opportunity for the industry."
FullClear also stated that it is a proven monthly beer line cleaner delivering up to 75% savings. Its solutions optimize beer quality and achieves the very highest health, safety, and environmental standards.
"FullClear is contracted to supply Hilton Hotels, Jones Group, Tokyo Industries and supplies Admiral Taverns, Hawthorn Leisure and other leading pub groups. FullClear has a deal with Vianet PLC. A global leader in beer monitoring and waste management systems, providing access to up to 14,500 potential customers."
All funds from the Crowdcube round will be used for the following:
Recruitment of staff to support growth
CRM development and technology integration
Marketing and promotion
Product enhancements and bulk production
Develop and deepen strategic partnerships
The funding round is currently scheduled to close next Saturday.

Sponsored Links by DQ Promote