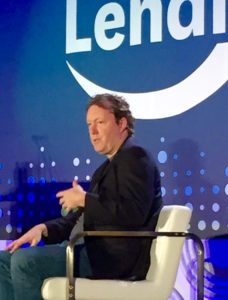 Mike Cagney, the former SoFi CEO, raises $50M for Figure, his new fintech venture focused on home equity lending, reported Bloomberg. Cagney left Sofi late last year as the platform was upended with legal challenges regarding accusations of allowing a "sexually charged corporate culture that condones unlawful conduct" to persist within the company, most by Cagney himself.
To recap, SoFi responded to the NYT report regarding online lending questions but did not address problems with company culture.  Following Cagney's resignation, Executive Chairman Tom Hutton stepped in as Interim CEO before new CEO Anthony Noto assigned the role in March.
After reading about Cagney's windfall, one considers an NYT article posted this past weekend. Katie Baker questioned "What Do We Do with These Men?", addressing what to do when men felled by #MeToo or sexual assault charges stage their comebacks:
"I don't have answers to those questions. What I do have is a plea to take them seriously. Because to tell men to sit down, to stay quiet, to disappear — cathartic as it may be — is its own form of looking away, and it is likely to come at someone else's expense… But it is only by discussing the issue, not ignoring or dismissing it, that we can begin to come up with something better. Because the bad men are going to make their comebacks whether we like it or not. It's up to us to determine what it looks like when they do."
In January 2018, only months after his ousting, Cagney sought to raise $25M for a new fintech company which focuses on home equity lines of credit (also known as HELOC). Cagney is notably working alongside his wife, June Ou, who was SoFi's Chief Technology Officer before she stepped down after her husband was removed from his position.
Cagney staged his comeback almost immediately, and raising a total of $50M just as swiftly. This investment round was led by Ribbit Capital and DCM Ventures, Bloomberg News reported; two anonymous global banks have agreed to finance loans and several firms have agreed to purchase them. Peter Thiel's Mithril Capital Management joined the round as well. Figure plans to use the blockchain to help expedite loan approvals in minutes rather than days, according to Bloomberg.
Bloomberg reported that Figure currently has about 56 employees, including a team of engineers in Montana. The startup has hired former LendingHome Chief Risk Officer, Cynthia Chen, and former PeerStreet Chief Legal Counsel, Sara Priola.
The San Francisco-based startup aims to utilize the blockchain as it tries to build a faster, cheaper and more secure way to create and package financial assets. Figure hopes to build a system that facilitates financing, that would ultimately act as a market where people can buy and sell credit.
"Figure is a financial technology company with the mission of leveraging blockchain, AI and advanced analytics to unlock new access points for consumer credit products that can transform the financial lives of our customers," explained Cagney on his LinkedIn page. "We provide home equity release solutions,including home equity lines of credit, home improvement loans and home buy-lease back offerings for retirement. Concurrently, we are building a blockchain protocol for the origination, custody, trading and securitization of whole loans and other assets."