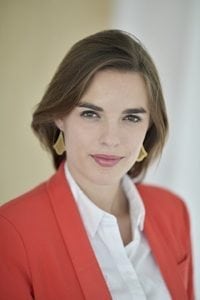 The Autorité des Marchés Financiers in France has appointed a new executive for the relatively new Fintech division. Domitille Dessertine, who was involved with the creation of the new division two years ago, is the new Director of the Fintech, Innovation and Competitiveness Division (FIC) for the financial regulator. She takes over from Franck Guiader who recently departed the agancy.
Domitille Dessertine joined the Autorité des marchés financiers in July 2013 as a senior advisor. She participates in European and international negotiations on topics related to asset management. In this capacity, she is particularly involved in the European project for the reform of money market funds, which will come into effect on July 21, 2018. Dessertine is also a member of a working group initiated by the Financial Stability Board on "shadow banking" (a euphemistic term that basically means not a traditional bank).
Dessertine has been engaged with Fintech, innovation and competitiveness, from the beginning. She participated in the launch of the AMF consultation on the management of Initial Coin Offerings (ICO) and in the analysis of the answers provided, as well as in the implementation of the "Unicorn program," which resulted in some 50 appointments with ICO project holders. France wants to become a jurisdiction of choice when it comes to ICOs in Europe.
You may expect her to be closely engaged with the European Commission and their Fintech plan that was announced earlier this year.
Dessertine is a Poly-Sci grad who holds a PhD. in Finance from the University Paris, Panthéon-Sorbonne.
---
Sponsored Links by DQ Promote