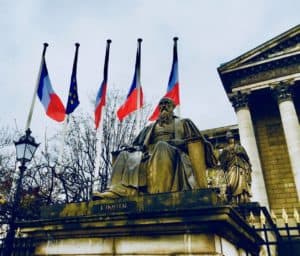 France decided earlier this year they wanted their country to be a destination of choice for initial coin offerings (ICO). The mission was outlined by Bruno Le Maire, the Minister of the Economy and Finance of France, who labeled cryptocurrencies a revolution.
Now we have a bit more clarity as the French Autorité des Marchés (AMF) and the Treasury sort out what this means.
As widely reported, last week a gathering on ICOs sponsored by the law firm of Kramer Levin, saw new information revealed as Sébastien Raspiller, deputy director at the General Treasury, commented on "the PACT Act"  or "Action Plan for Business Growth and Transformation" will regulate ICOs.
A forthcoming bill is expected to be delivered to the French Council of Ministers this month and Parliament in the fall. The legislation is predicted to go into force by early 2019.
Kramer Levin has posted a good write up on the forthcoming legislation. The law firm states:
"The proposed legislation would introduce a new chapter to Book V, Title V of the French Monetary and Financial Code, or CMF, which will be renamed "Intermediaries in Miscellaneous Property and Token Issuers." Chapter 2 of Title V will be titled "Token Issuers" and will detail the rules applicable to ICOs in articles L. 550-6 et seq.
Chapter 2 provides a definition of tokens, indicating that a token is intangible property representing, in numerical form, one or more rights that can be issued, registered, conserved or transferred using a shared electronic registration mechanism that facilitates the identification, directly or indirectly, of the owner of said property. It also defines an ICO as any offer to the public, in any shape or form, to purchase tokens. However, it excludes offers made to a small number of buyers. Under the proposed legislation, the issuer should notify token buyers of the status of the project the ICO funds were used to finance, and of the establishment of any secondary market for the tokens."
Tokens that are simply traditional securities on blockchain must comply with current regulations.
Kramer Levin describes the French approach as differentiating from other jurisdictions –  like the Swiss and the US which have leaned more towards applying existing securities law instead of creating a new regime from the ground up.
Under the draft rules, the AMF will be authorized to approve ICOs but interestingly AMF approval is not necessary for issuers to proceed. The AMF may simply require heightened disclosure so investors may make a more informed decision.
Of course, nothing is finalized until legislation is signed into law but France may become the first EU country to create bespoke rules for digital asset offerings that are not anchored in past security laws.