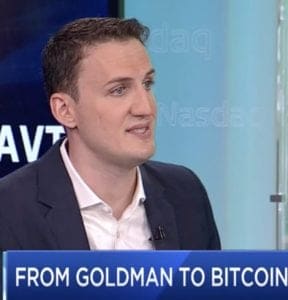 Goldman Sachs announced earlier this year the creation of an in-house cryptocurrency trading desk – a first for a top tier bank. A Goldman rep made the comment that it "resonates" when clients want to hold Bitcoin (and they would need to go elsewhere if Goldman did not provide the service).
So it should come as no surprise that some former Goldman Sachs execs have decided to strike out on their own and provide a boutique digital asset firm. Visiting the studios of CNBC this past week, Christopher Matta, of Crescent Crypto Asset Management, said they were known as the crypto guys at Goldman and thus an interest went from a hobby to a full time gig.
Demand Meet Supply
Matta explained that there was interest in a complexity free product to get exposure to the new asset class hence the new business.
Asked about the recent comments by the SEC Director of CorpFin and his opinion that Ethereum is not a security. Matta said;
"I think we have been in this regulatory uncertainty for 6 months months now. This is just one piece of a broader picture. There is still the custodian question. There are still questions around exchange traded products that really need to be answered for more institutions to feel more comfortable to get into the space in an easier way and exchange traded products are something we are really focused on as a big catalyst in the space over the next year or two."
The fund Crescent Crypto is putting together incorporates 20 different cryptocurrencies. Matta shared that they wanted to create something that is "future proof." The individual cryptos must be traded on multiple exchanges that are available in the US and they will not hold a coin that you cannot hold in cold storage.
"You constantly hear about these exchange hacks. We do not want our clients to be taking that risk."
Matta's fund is looking at a 2 to 5 year time horizon given the fact that most cryptocurrencies are super volatile.
"I don't think the bull thesis has changed at all … this could be down 50% tomorrow, this could be up 300% next week. You have to hold this for a longer term."
Asked if he would put his grandmother's money into the funds, Matta said absolutely.
"… the actual risk adjusted returns relative to other asset classes are quite good."
You may watch the video below.
---
Former Goldman Sachs trader leaves Wall Street for crypto from CNBC.

Sponsored Links by DQ Promote