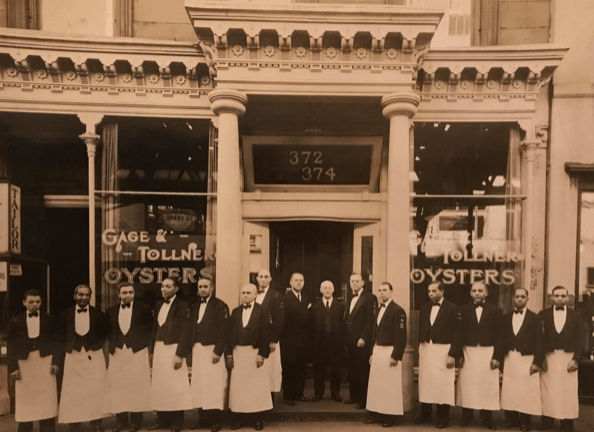 No Eats 'Til Brooklyn? Riffing on the Beastie Boys' "No Sleep 'Til Brooklyn" on this new revenue sharing Wefunder campaign which plans to bring back to life the historic and beloved Brooklyn restaurant Gage & Tollner. Gage & Tollner, once known for its stunning Gilded-Age dining room and its straightforward approach to honest cooking and warm hospitality, closed in 2004 after 125 years —  just missing Brooklyn's restaurant scene renaissance — closing on Valentine's Day.
When Charles M. Gage opened the oyster house on Brooklyn's Fulton Street in 1879, the Brooklyn Bridge wasn't finished, the Statue of Liberty was just an idea, and the subway was a distant 25 years away. After Gage & Tollner closed, it became a TGIFridays, Arby's  –gasp –and then a few clothing stores.
Founders Kim, Frizell and Schneider already have three successful NYC restaurants between them, including Red Hook's The Good Fork, Fort Defiance & Gowanus area Insa. @wefunder
Click To Tweet
In 2019, Executive Chef Sohui Kim, St John Frizell and Ben Schneider decided shuck the restaurant from its horrid shell of the last years to bring the pearl of Gage & Tollner Oyster and Chop House back to life. At this writing, over 140 investors believes in the trio's vision and have pledged nearly $200K toward to the campaign's minimum $400K target on Wefunder. The raise is for 4%of revenues with a 1.5X payback multiple, which means in this campaign investors who fund the first $400,000 of this fundraise will receive 100% of their principal and an additional 50% on top $600K is the goal.
"According to our projections, 1.5x payback occurs early in Year 5, and 1.25x payback occurs in Year 4," indicated the campaign.
Kim, Frizell and Schneider are not new to the city's restaurant scene, they have three successful NYC restaurants between them, including Red Hook's The Good Fork, Fort Defiance & Gowanus area Insa.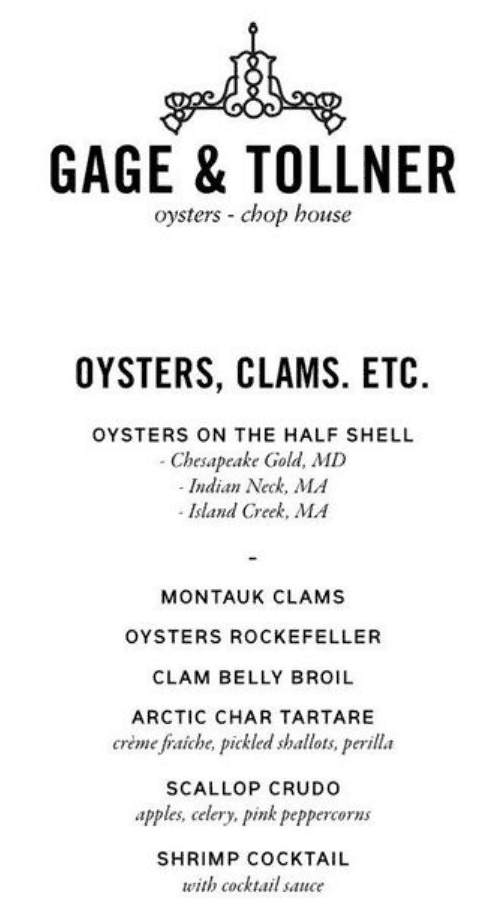 The lure? Gage & Tollner is located on Fulton, in the heart of hipster Downtown Brooklyn, and is served by 19 public transit lines, not to mention Uber and cabs. The dining room is a unique, landmarked Gilded-Age jewel with 19th century charm (but a 21st Century infrastructure), a tourist destination in itself.
The catch? Oysters, lobster, crabs, clams… "Nothing too fussy… very approachable. It starts with using wonderful ingredients sourced from great local farms." This is what Executive Chef Kim has in mind.  Hungry yet? Or are you thirsty?  There will be a cocktail club upstairs from the restaurant keeping with the 19th century, but venturing into more of an Explorer's Club theme.
Gage and Tollner will feature a 70-seat dining room, a 40-seat bar area, two combinable private dining rooms seating up to 60, and a separate 30-seat tropical cocktail bar upstairs. The menu will be inspired by the original oyster and chophouse, but driven by fresh, local ingredients. Targeted guests will be Downtown Brooklyn's new and established residents, local professionals, patrons of the arts, and tourists from Brooklyn, Manhattan, and outside the city.
Investor perks include an invitation for two to our grand re-opening party at the $1,000+ level, a complimentary welcome cocktail or glass of wine for you and a guest at your first ten visits to Gage & Tollner at $5,000+, a meal for two (appetizers, entrées, and dessert) with a bottle of wine and a Gage & Tollner gift box at the $10,000+ level and a 10% lifetime discount on food purchases for parties including the investor and up to three additional guests at the $25,000+ level. Click here for projected finances and more information about the campaign.
_____________________________________________

Have a crowdfunding offering you'd like to share? Submit an offering for consideration using our Submit a Tip form and we may share it on our site!