Overstock (NASDAQ:OSTK) reported financial results for the quarter ended June 30, 2018 today. Top line numbers included $483.1 million in revenue a 12% increase versus same quarter last year. Gross profit increased by 9% to $91.7. Overall, performance came in as follows:
Gross margin: 19.0% vs. 19.5% (49 basis point decrease);
Sales and marketing expense: $94.4M vs. $43.3M (118% increase);
G&A/Technology expense: $63.9M vs. $50.6M (26% increase);
Pre-tax loss: ($65.9M) vs. ($9.7M) ($56.2M increase);Pre-tax loss – Overstock retail (non-GAAP financial measure): ($57.4M)
Pre-tax loss – Medici (non-GAAP financial measure): ($8.6M)
Net loss*: ($64.9M) vs. ($7.5M) ($57.4M increase);
Diluted net loss per share: ($2.20)/share vs. ($0.29)/share ($1.91/share increase);
But, of course, much of the interest focused on Overstock's multiple blockchain initiatives.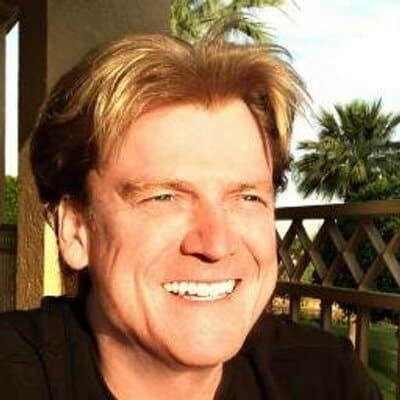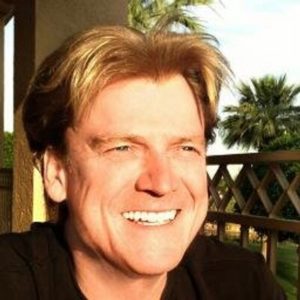 In a letter to investors, Overstock founder Patrick Byrne stated;
"… we have reached a crucial juncture in our firm's history and it is becoming increasingly important to elucidate the different parts of our business and their potential value. As a result, this letter and the accompanying earnings webcast will be unusually informative."
As previously reported, tZERO (owned 80% by OSTK subsidiary Medici Ventures) closed its Security Token offering (STO) raising $134 million. GSR Capital, a Hong Kong based investment firm, has signed a repurchase agreement to acquire some tokens while investing in tZero equity, up to $270 million at a post money valuation of $1.5 billion.
Byrne said they are increasingly enthusiastic about blockchain and Medici Ventures' unique position. In addition to tZERO, they have funded 13 blockchain projects within Medici Ventures.
Regarding tZero, Byrne sees an addressable market of "a quadrillion dollars of fractional ownership around the globe."
"Security Tokens are disruptive to all these instruments and the ecosystems around them because the technology of Security Tokens provides a more secure, efficient, and transparent way to represent fractional ownership in assets. However large proves the disruption that Security Tokens brings to those instruments, such tokens are going to need a vehicle for issuance and a place to trade. That is what we have built in tZERO. We believe tZERO is the best positioned firm on the planet to serve as a marketplace for this coming wave of Security Tokens," stated Byrne.
Byrne believes they have an extensive regulatory advantage when it comes to their blockchain initiatives.
"We can claim more experience with regulated blockchain instruments than anyone in the field. In March 2015, tZERO's Alternative Trading System, ProSecurities ATS, filed with the SEC its plans to facilitate secondary trading of blockchain instruments. Shortly thereafter, in August 2015, we issued a private blockchain instrument (our $5 million bond). In December 2016, Overstock issued OSTKP, the world's first SEC-registered blockchain security, which trades on the ProSecurities ATS."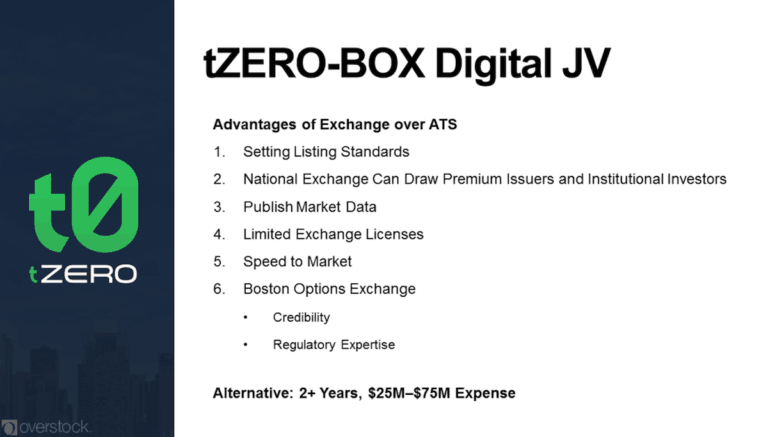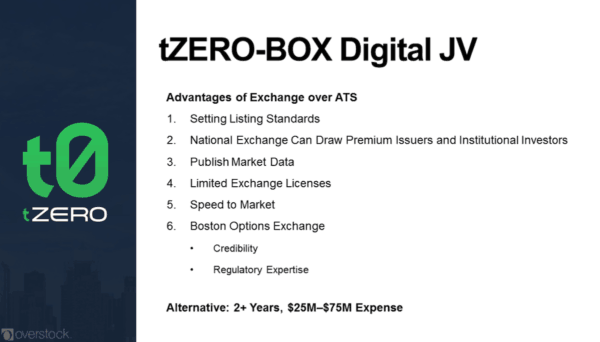 Working with Box Digital Markets (the Boston Exchange), a registered exchange, tZero expects to operate the first security token exchange anywhere. Their JV with Box "puts further regulatory distance between us and any followers."
In comments shared on the Overstock earnings call, Byrne added some background pertaining to their blockchain based ventures.
Regarding the STO, Byrne said the first morning they listed the offer they had over $100 million in expressed interest.
During a trip to Asia, Byrne said he probably had over $800 million pledged but his team found it incredibly difficult to get the money out of Asia. One issue was the perception this was an initial coin offering (ICO) instead of an STO. As the "world's first security token," it was difficult to differentiate between a cryptocurrency and a regulated securities on blockchain. Byrne said there remains incredibly interest in Asia when it comes to tZero.
Byrne shared the importance of having established a Joint Venture (JV) with a regulated exchange. They could have spent several years attempting to become an exchange or buy into an existing one;
"We tried very hard to acquire an exchange," Byrne said. But in the end the partnership with Box was deemed most viable. "I am really excited about the Boston Exchange."
He explained there were multiple advantages to partnering with an exchange. Foremost is speed to market. But by having access to an exchange puts them into a strategic advantage to competitors. Operating as an ATS means incorporating a broker – dealer and he believes the exchange will be preferable to going through a BD. Byrne expects better access to premium issuers and more institutional interest.
"Premium issuers do not want to list via a middle man. They would rather have a direct relationship."
Byrne said they are meeting with the SEC on regular basis to make the Box partnership happen. He expects "exponential growth as ICOs shift into regulated securities offerings."
"It is a race to develop the market where these trade," said Byrne. He added that he was also after the US Treasury business too.
"… we believe that Security Tokens are an innovation of historic proportions, and we are leading the field. This scaling up of tZERO reflects the seriousness with which I take this project and my belief in its enormous potential. This year's infusion of financial and human capital into tZERO will be overwhelmingly positive in preparing tZERO to compete and win the coming competition of security token exchanges."
tZero is currently building off of Ethereum smart contracts and the ERC20 standard but are considering other options as well going forward. Byrne mentioned specifically his observations regarding Raven coin. "I can't tell you how many companies are knocking on our door to set up an exchange." Byrne then amended this statement and said there were 20 different countries interested in this service. tZero expects to announce some international partnerships at some point in the future.
tZero expects to be trading their own security token at some point in Q4. Byrne has said 1000s of companies have contacted them to list their securities. They expect to onboard issuers in Q4 and next year.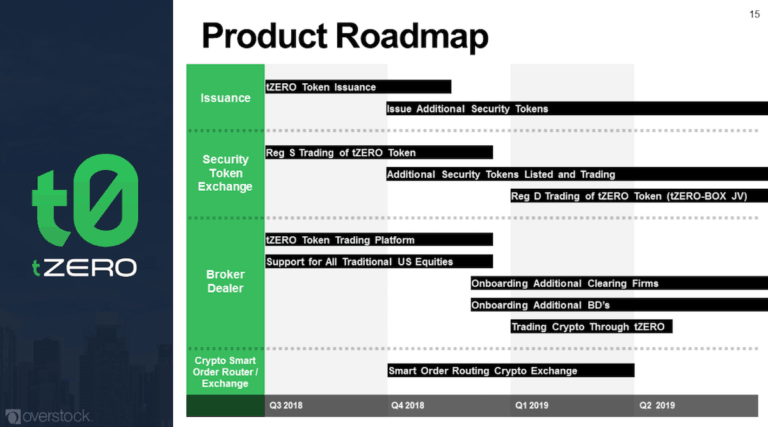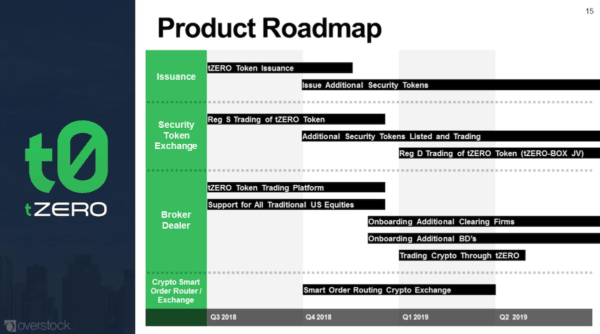 Have a crowdfunding offering you'd like to share? Submit an offering for consideration using our Submit a Tip form and we may share it on our site!

Sponsored Links by DQ Promote