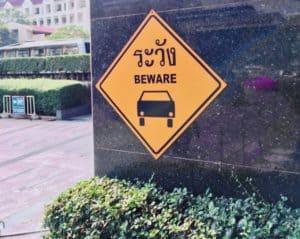 Aarni Otava Saarimaa, a 22 year old crypto investor based in Finland, used to be crypto rich. Today, perhaps he is less so after following afoul of a scam apparently hatched in Thailand.
In a sordid saga shared by the Bangkok Post, a crypto investor who should have been sophisticated to the lawless world of crypto investing, was fleeced of 5500 Bitcoins. At most recent exchange rates, that equates to USD $35 million – a bad day in anyone's book.
The plot took place over multiple months, according to the article. The Thai Crime Suppression Division (CSD) has been working on the case since January when it became aware of the alleged fraud but it just hit the headlines in recent days. The fraud was said to be one of the most challenging cases the CSD has dealt with due to the sophistication of the ruse.
Authorities believe there were 9 individuals involved in the scam, including a 27 year old soap opera actor named Jiratpisit 'Boom' Jaravijit who was recently photographed in handcuffs playing the role of the perp walk. Boom was accompanied in the swindle with the help of some family members – one of which, Prinya Jaravijit, has apparently fled the country and is on the run, perhaps in the US. Prinya is believed to be the mastermind behind the failed fraud.
The CSD was tipped off to the fraud when a Thai businessman, Chonnikan Kaeosali, who is described as a partner of Saarimaa, approached law enforcement authorities in Thailand. The thugs allegedly lured the unsuspecting into offers of investment of crypto that included the high profile gaming currency Dragon Coin. The gang went so far as taking their victims to Macau Casinos to convince them of the legitimacy of the offer.
Of course, once the Bitcoin was transferred it quickly disappeared, apparently the crooks moved the money into Thai Baht and into multiple bank accounts attempting to cover their tracks by purchasing property.
The Thai CSD is said to be gathering additional evidence as it prepares to issue further arrest warrants. The Jaravijit family face charges of money laundering and fraud charges. In total, 51 different bank accounts have been frozen and 14 different plots of land have been identified as part of the scam.