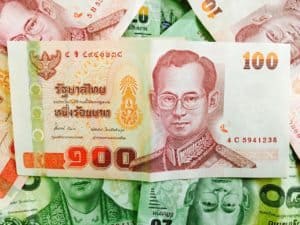 The Secretary of Thailand's Anti-Money Laundering Office (AMLO), Witthaya Neetitham told attendees at a cryptocurrency and crime seminar this week, "We have discussed launching our own 'AMLO Wallet' to hold or confiscate digital currency from illegal sources," Thai news agency The Nation reports.
Thailand presently lacks laws directing agencies on how to deal with alleged crypto criminal proceeds and their storage.
According to The Nation, this means, "Thai authorities can jail or extradite cybercriminals and confiscate their physical assets – but they cannot touch their digital assets."
Thai police, in cooperation with their Dutch counterparts, recently arrested a suspect from Moldova accused of running a child porn website.
The site was allegedly pulling in 123 million baht (about $5 million USD a year), but investigators say they were unable to touch some of the proceeds because they were being stored in crypto.
"We found bitcoin in his e-wallet, but had to leave it there because we don't have any regulations (governing its seizure)," Police Captain Ekkanit Natethong told The Nation.
Laws governing the trading of cryptocurrencies in Thailand have been established, but the relative obscurity provided by some crypto systems means, "We cannot identify the cryptocurrency operator or receivers when duped victims transfer money to the criminals," Captain Natethong said.
Thai authorities may also need more money for crypto forensics. The Deputy Director General of the Thai Department of Special Litigation, Office of the Attorney General, Chartpong Chirabandhu, told The Nation that identity links in crypto forensics can be hard to convincingly establish:
"A big problem with digital assets and other such evidence is the difficulty in discovering the identity of those transacting. When we present the evidence to court, it often fails to convince the judges."
Police Colonel Pisal Erb-Arb, the Deputy Commander of the Thai Narcotics Suppression Bureau, was involved in the Bangkok arrest of the French Canadian Dark Marketeer and proprietor of AlphaBay, Alexandre Cazes.
He told The Nation that Thai legislators should expedite legislation governing the use of crypto in crimes.
"We need to hurry. Thailand is a haven for money laundering that finances terrorism," said Erb-Ard, who took part in joint operation with the FBI to arrest Alexandre Cazes, founder of the "darknet" marketplace Alpha-Bay, in Bangkok last year.
Cazes was found dead in his jail cell from apparent suicide a few days after his arrest.

Custody of crypto proceeds-of-crime has also proven an issue outside of Thailand.

A judge in a Quebec courtroom recently ordered bailiffs to bring the computer of a man accused of ICO fraud into the courtroom so the accused could hand over bitcoins to police or face charges of contempt.

Crypto seizure also proved a challenge in San Francisco then August when, citing issues of liability, the FBI refused to take custody of an accused hacker's bail of $750 000 in crypto.

Marin Marsich, 25, a dual citizen of Italy and Serbia is accused of stealing $324 000 USD worth of electronic goods and digital currency from Electronic Arts' FIFA-licensed online soccer simulator game.

Sponsored Links by DQ Promote