Orca Money's crowdfunding campaign is going as smoothly as expected.  The P2P investment aggregation platform linked with Seedrs and launched to raise £500,007 campaign yesterday and has already secured over £346,745 from more than 91 investors toward its goal. Co-Founded by CEO Iain Niblock and Jordan Stodart in 2015, Orca is  currently offering 22.23% equity and has been pre-campaign valued at £1,749,218.
"Seedrs is the right choice for Orca, the platform offers us exposure to a network of investors who are financially savvy and should be able to grasp the concept of our business with relative ease," Orca Co-Founder Stodart shared with Crowdfund Insider via email. "The size of the crowdfunding platform's network should play an important role in us exceeding our target fundraise. It's just the start, but we're excited to see how things progress."
At this writing, Techstart is the largest investor having committed £149,934.13 to the campaign. The funds raised will be used to contribute to the business' growth and expansion plans as Orca aims to become the alternative lending hub.
"We're delighted that we've reached 70% of our target fundraise in 24 hours and look forward to exceeding the 100%, with luck, very soon," exclaimed Stodart to Crowdfund Insider regarding the swift raise.
'We're delighted that we've reached 70% of our target fundraise in 24 hours and look forward to exceeding the 100%, with luck, very soon...' @orca_money @seedrs
With its Seedrs' fundraise, Orca will address a number of strategic objectives increasing customer base growth, lender integration, product feature enhancement, further Orca's research service development and product building for European expansion.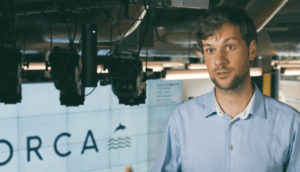 "We believe that aggregation is the next logical step for alternative lending. We are concentrating on developing our product to deliver greater value to our customer-base," shared Orca CEO Niblock regarding the Seedrs' campaign. "This includes integrating with more lenders. We're excited for the road ahead and encourage people to come and join the Pod!"
In the last two years, Orca has been providing research on the P2P lending sector, supporting retail investors with its data-driven analyses and insights in market due diligence of the market. In March 2018, Orca extended its services, allowing investors to research, invest, build and manage portfolios across the P2P market. Investors earn returns, diversify risk and save time.
"The P2P lending market has grown at an impressive rate, with over £12 billion cumulatively lent across platforms since the asset class was created in 2005; £4 billion of which was in 2017," observed Orca. "Moreover, the landscape has grown to over 30 P2P lending platforms in the UK, all vying for the attention of retail investors, with specific, often niche investment products. This has created a complex and fragmented market."
Orca's aggregator platform aims to allow people to invest more easily across multiple P2P platforms, lending sectors and a large number of borrowers with confidence, ease and efficiency. People can deposit funds, build portfolios and monitor their investments. This service reduces risk through diversification, delivers attractive returns and provides easy access to the market.
Live @Seedrs: @orca_money #fintech #cross-platform diversification
How does Belfast-based Orca make money? According to its campaign information, P2P platforms pay Orca referral fees on each lender account that Orca refers, then the users pay Orca a percentage of the invested funds on an annual basis.
"On a unit economic basis we expect that customers will be profitable in the first year and as P2P investing is generally regarded as long term we expect a high customer lifetime value," explained the campaign.
For more detailed information about Orca Money's Seedrs' raise, please click here. 59 days remain on the campaign.
Have a crowdfunding offering you'd like to share? Submit an offering for consideration using our Submit a Tip form and we may share it on our site!