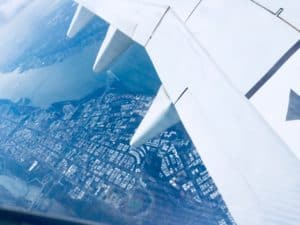 Traditionally, providing comprehensive travel packages to consumers across the globe can be a complex process involving numerous parties – both in a traveller's country of origin and in destination areas.
Local tour operators curate and pay for bulk deals on accommodation, tour and food-services, then sell these packages to wholesalers abroad, who may in turn sell units to travel agents. Fees, of course, must be collected at every step.
Now, Air Canada hopes its new blockchain-undergirded travel platform will allow "blockchain savvy" customers to access a state-of-the-art, simplified and more economical travel booking process from the airline, a system it hopes will reduce the cost impacts and complexities posed by intermediaries.
According to the October 24th release announcing the trial, the project will incorporate Swiss start up Winding Tree's blockchain into Air Canada's Direct Connect API (online booking portal), a system already established.
Air Canada Director of Global Product Distribution, Keith Wallis, says the airline is pleased to be participating in the possible creation of a "new travel distribution channel":
"As Canada's largest airline, and a global leader in innovative airline distribution solutions, Air Canada recognizes the importance of leveraging this next generation technology…(and) giving blockchain-savvy users the ability to access our content directly from the source."
Air Canada suggests complexities in the standard provision of travel products may be choking growth and competition, something they hope will be reduced when customers use the new system, if successful:
"The complexity of the current travel distribution landscape can deter new entrants and innovation in the distribution and sale of air travel products. Winding Tree intends to address this complexity by developing a decentralized, open-source platform for travel distribution to provide greater access to inventory directly from suppliers."
Winding Tree is also pleased, "to have (Air Canada's) valuable collaboration in creating the ideal developer experience and their ongoing feedback along the way as we build an open environment for travel distribution."

Earlier this month, Air France-KLM announced that it, too, is partnering with Winding Tree to develop blockchain-based travel services they hope will enable, "a more advantageous travel offer for customers which is more profitable for suppliers, in particular by reducing the number of intermediaries."

Sponsored Links by DQ Promote