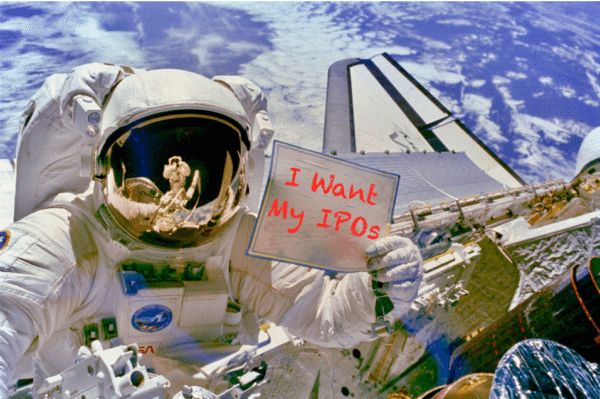 Coinbase has opted to raise funds from, "some very high quality investors….who have a very constructive thesis on crypto," in a series round and won't be doing an initial public offering (IPO) any time soon, Bloomberg reports.
"There's not going to be an IPO any time soon. We have so much to do…At some point we will go public, but that's not even at the top of the list of the things we're worried about right now," said Coinbase COO Assif Hirji.
Instead, says Hirji, the company, "want(s) to diversify our revenue streams…to have a more predictable revenue":
"The PE (price-to-earnings-ratio) of an asset manager or custodian is much higher than the PE of a broker which is much higher than the PE of an exchange. We're in all those businesses…but our fee structure at the moment is 100% transactional, and that will morph…"
Last week, at the Crypto Invest Summit, Coinbase announced it had raised money at a valuation of $8 billion.
Hirji announced yesterday in a Coinbase blog post that the company recently raised $300 million in Series E equity round, "led by Tiger Global Management…"
A Bloomberg host asked what the company had learned after scrapping plans to offer a crypto index-fund product:
"I wouldn't say that it didn't work out…what we found is it was a much bigger hill to climb in terms of the regulatory requirements…We think it's actually more efficient to offer it through consumer…rebranded…(as) Coinbase Bundles…It's out there now as a one-click almost a robo-advisor type product…available to consumers or institutions…It's a much simpler and faster way of deploying the same thing…and it also creates more value for the user."
Hirji said the exchange plans to up the number of tokens it offers. Even if 90% of cryptocurrencies or tokens are "garbage," said Hirji, that still means that a good 200-300, "are legitimately worth investing in":
"You should expect us to go from 7 (cryptos offered for trading) to that total number that we think is worth it…over the next…year or so. We're going to add them geography by geography because the US has not kept pace with where regulation is throughout the world…more things will probably be offered outside the US, but in the next year, you should expect us to offer…most that are worthy of being offered."
Analyst and TheBlock writer Larry Cermak published an incredulous tweet yesterday regarding Coinbase's plans to offer more so-called "crypto-assets":
Hirji acknowledged a pivot at Coinbase towards servicing institutions, and said the exchange, "get(s) more and more demand from traditional Wall street and institutions every day":
"The biggest impediment for all of them is they need a…qualified custodian that can safely store crypto. We've been doing it longer than anybody else…we have the best track record in the industry…So that's why we're very proud to offer Coinbase Custody and…a suite of institutional products."
Cermak also tweeted that Coinbase's projected revenue numbers seem to suggest that, given declines in retail investor activity in recent crypto bear markets, Coinbase may indeed be anticipating a significant increase in revenues coming from institutions.

Sponsored Links by DQ Promote