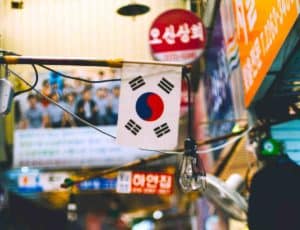 A judge at the Seoul Central District Court has ordered one of South Korea's largest banks, Nonghyup, to restore services to the Coinis cryptocurrency exchange, 8BTC reports.
The showdown reportedly began in September when Nonghyup announced it would no longer process deposits and withdrawals on behalf of the exchange.
Customers at cryptocurrency exchanges often use their bank accounts to load crypto trading accounts with cash, often through bank transfers.
Exchanges in Canada and South America have also had their accounts closed by banks and claim their businesses and customers have suffered as a result.
Vancouver-based crypto exchange QuadrigaCX has been veritably plagued by bank non-cooperation problems. This October, the exchange was in court fighting for the release of $28 million dollars in customer funds being held by the large Canadian bank CIBC.
Brazilian crypto exchange Bitcoin Max recently won an injunction forcing Banco do Brasil and Banco Santander to maintain account services as a case brought against the banks by the exchange winds its way through courts.
Another exchange in Brazil, Bitcoin Market, however, failed to win a case against banks that cut services when a 3rd Panel of the Superior Court of Justice in Brazil decided, "by majority vote that the closure of the current account of the exchanges does not constitute an abuse of rights."
Banks have qualified the account closures as "de-risking" and say they fear being implicated if an exchange is ever proven to have processed illicit transactions or laundered money.
In the past, many crypto exchanges performed minimal due diligence on clients, and many have been accused of allowing manipulation- a practice more easily accomplished if a bad actor doesn't have to identify him- or herself properly to an exchange.
Nongyup said it was cancelling services to Coinis over similar concerns about illicit transactions. But a lawyer for Coinis, Kim Tae-rim, argued that other business rules also apply in this case:
"Cryptocurrency exchanges, by default, have the right to freely deposit and withdraw funds to and from major banks in South Korea, and an abrupt termination of partnership and services by the bank [in this case Nonghyup] without sufficient evidence or reasoning falls under the breach of contract."
The case against Nonghyup is reportedly the first ever brought against a bank by a crypto exchange in South Korea, and Kim believes the ruling will set a precedent to deter other banks from acting arbitrarily against businesses some regard as competitors.