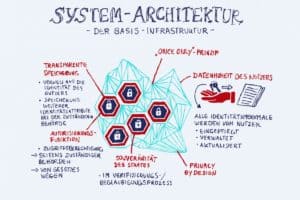 The Blockchain Bundesverband, an association for the promotion of blockchain technology in Germany, has announced a new think tank for token regulation. "thinkBLOCKtank" will release a joint paper supported by various European countries entitled EU Token Regulation as the group seeks to drive the regulatory status of token offerings. A public event has been scheduled to take place in Luxembourg on November 28th to present the token regulation document.
The blockchain think tank, a Luxembourg based non-profit organization, says it will bring leading professionals, lawyers and academics from European countries together. The group aims to provide high quality research, policy recommendations, and analysis on a full range of issues concerning Distributed Ledger Technologies (DLT) / blockchain, cryptocurrencies and crypto-assets.
The soon to be released paper builds on an earlier paper issued by the Finance Working Group of Blockchain Bundesverband, the German Blockchain association, in February 2018.
The "EU Token Regulation Paper" is described as a pan-European effort to guided the application of laws on the issuance of tokens in a number of European jurisdictions.
In addition to an evaluation of current token regulations in the EU, a detailed analysis will bbe provided for individual countries such as England & Wales, Germany, Ireland, Italy, Luxembourg, Malta, and Poland.
Interested parties may register here.
The meeting will take place on November 28 at 630PM. The location of the meeting is The Office, 
29 Boulevard Grande-Duchesse Charlotte, 
L-1331 Luxembourg.
Founding members consist of:
Prof. Dr. Heribert Anzinger
Monique Bachner
Audrey Rouach Baverel
Andrea Bianconi
Jeff Braun
Gina Conheady
Jacek Czarnecki
Boika Deleva
Natalie Eichler
Christian Ellul
Tina Ehrke-Rabel
Joey Garcia
Jonathan Garcia
Dr. Christoph Gringel
Dr. Sven Hildebrandt
Klaus Himmer
Iwona Karasek-Wojciechowicz
Dr. Sebastian Keding
Thomas Kulnigg
Dilmun Leach
Lennart Lorenz
Dr. Ian M. Maywald
Dr. Andreas Mätzler
Stephan D. Meyer
Alvaro Garrido Mesa
Stefan Michaelsen
Dr. Luka Müller Studer
Thomas Nägele
Anne-Marie Nicolas
Nejc Novak
Daniel Resas
Tobias Seidl
Alireza Siadat
Dr. Nina-Luisa Siedler
Elfriede Sixt
Dr. Arthur Stadler
Matthew Suter
Melvin Tjon Akon
Catarina Veloso
Dr. Oliver Völkel, LL.M.
Dr. Thorsten Voss
Marcin Zarakowski
Sponsored Links by DQ Promote