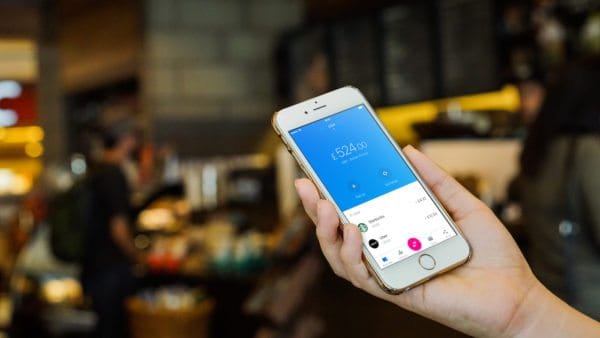 Digital only bank Revolut has received a European banking license. The London based Fintech says it is now positioned to become "the Amazon of Banking." Revolut applied for the banking license via the Lithuanian central bank just over a year ago in November 2017. It will now be able to passport operations across Europe.
To date, Revolut has raised approximately $340 million in venture capital from prominent firms as well as through a crowdfunding offering. Revolut raised capital on Crowdcube in July of 2016 at a valuation of just £42 million ($58 million). The company's most recent funding round this past April saw Revolut raise $250 million at a valuation of $1.7 billion delivering Unicorn status.
While Revolut has been operating for several years in Europe without a banking license the firm has been able to cobble together a series of services to provide bank-like products, such as transfers and payments, as it inched towards receiving full regulatory approval. Even without a banking license, Revolut has been able to attract over three million users in Europe. The Fintech is currently opening around 8,000 to 10,000 current accounts a day. Revolut is currently transacting over $4 billion per month in volumes and says it is currently breaking even on a monthly basis.
Some of the key benefits provided by a banking license is that customer funds will be protected under the European Deposit Protection Scheme (EDPS). This means up to €100,000 will be insured.
Additionally, a greater portfolio of services will soon be directly provided such as overdraft options, bill pay, interest earning accounts, direct lending and more. This will make Revolut even more competitive towards lethargic high street banks. Revolut has been partnering with third parties on some of its current offerings.
Revolut said it will begin implementing the license next year focusing first on smaller European countries, eventually rolling out to all of the EU.
"With the banking licence now secured, commission-free stock trading progressing well, and five new international markets at final stages of launch, we are living up to our reputation as the "Amazon of banking," said Nik Storonsky, Founder & CEO of Revolut. "Our vision is simple: one app with tens of millions of users, where you can manage every aspect of your financial life with the best value and technology."
Revolut initially launched its stealth bank operations by allowing consumers and businesses to spend and transfer money abroad with the real exchange rate, a service that traditional banks have long used to gouge their customers.
As a forward-thinking Fintech, Revolut saw opportunity in crypto – an area banks view with fear. In December last year, Revolut partnered with a third party to offer its customers the ability to buy and sell exposure to cryptocurrencies from within the Revolut app matching supply with demand.
In August of this year, Revolut announced plans to launch commission-free stock trading across the UK and Europe in 2019.
Online lending, a prominent sector for established Fintechs, will soon become just another vertical of the full stack options that Revolut will provide.
"Our vision is that retail and business customers will be able to apply for a loan in just two minutes from within the app, and then have the money in their account almost instantly," said Storonsky. "We'll remove the bureaucratic process and come in cheaper than traditional lenders."
Friction Free and No Bank Branches.
Revolut has long expressed its interest in becoming a digital money center bank with global operations. Beyond Europe, Revolut has plans to set up shop in Canada, Singapore, Japan, Australia, and New Zealand. All during 2019. Of course, near the top of the list is the United States, a market that Revolut originally expected to service before the end of 2018. Revolut has previously acknowledged the complexity of rolling out global banking services. The US is likely the most challenging as it is a market that suffers from a broken regulatory environment when it comes to encouraging innovation in financial services.
Earlier this year, the Office of the Comptroller of the Currency announced its intent to provide a path for Fintechs to provide services across all 50 states. Comptroller Joseph M. Otting said at the time of the announcement that the federal banking system must continue to evolve and embrace innovation to meet the changing customer needs and serve as a source of strength for the nation's economy. This recognition that banks must be open to change and innovation was almost immediately attacked by the traditional banking ecosystem.
The Conference of State Bank Supervisors (CSBS) said in October:
"Common sense and the law tell us that a non-bank is not a bank. Thus, CSBS is calling on the courts to stop the unlawful, unwarranted expansion of powers by the OCC. The OCC is playing the role of an industrial planner that picks winners and losers, makes consumers vulnerable to predatory actors who do not have to follow state consumer protections, and creates a new risk to taxpayers: failed Fintechs seeking bailouts."
The New York Department of Financial Services filed a civil lawsuit that said:
"The Fintech Charter Decision is lawless, ill-conceived, and destabilizing of financial markets that are properly and most effectively regulated by New York State. It also puts New York financial consumers – and often the most vulnerable ones – at great risk of exploitation by federally-chartered entities improperly insulated from New York law. The OCC's reckless folly should be stopped."
The hyperbole exemplified by the above commentary makes one wonder why a Fintech would want to enter such a marketplace, yet Revolut plans to attack the largest economy in the world and provide consumers with a digital-only banking service.
Even as the path to receiving a banking license in the US may have its challenges, Revolut will most likely partner with an established bank to piggy-back on an existing banking license in an act of regulatory arbitrage that has become a well-trodden path for US Fintechs.
Revolut is an operation that traditional banks fear the most. It is well positioned to provide a service that is needed and in demand. Better services at a lower cost. Traditional banks will continue to struggle with legacy tech and a culture that is risk and change-averse. As one of Revolut's competitors recently stated:
"The challenge in the high street banks is legacy. The challenge in the smaller banks tends to be balance sheet and capital."
Revolut is burdened by neither.

Sponsored Links by DQ Promote