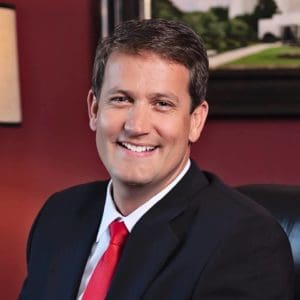 Georgia State Senator Michael Williams has been charged with insurance fraud and making a false report of a crime after police and an insurance company debunked claims made by Williams last May relating to the reported theft from his Gainesville campaign office of $300 000 worth of crypto mining equipment, Atlanta Journal-Constitution (ATC) reports.
Williams former campaign manager, Seth Weathers, says the charges are part of "a political witch hunt" targeting a "fearless conservative" and are without merit.
Williams ran in the Republican primary for governor last spring.
He ran a sensational campaign that involved, "raffl(ing) off a deadly device after it was used in a mass shooting…enlist(ing)… TV reality star 'Dog' the Bounty Hunter to promote his call for increased police pay…" and campaigning alongside a "deportation bus" emblazoned with slogans equating illegal immigrants with violent criminals.
Despite his loud campaigning, Williams reportedly struggled politically, both as a senator and as a gubernatorial-primary candidate.
According to the Atlanta Journal-Constitution, he had a hard time taking his place in the Georgia Senate after his election in 2014:
"Williams struggled to gain clout in a chamber that emphasizes longevity and loyalty. Many saw him as a sideshow who made promises he couldn't follow through on."
Trump's victory over Hilary Clinton reportedly emboldened Williams to seek candidacy in the republican primary for Governor, but his sensational campaigning merely attracted, "scorn from many conservatives. He was universally ignored by his GOP rivals. At some debates, his rivals wouldn't even respond to Williams' taunts."

Williams eventually came in last in the May Republican primary for governor, and in the same month, reported the theft of crypto-mining machines from his office.

He is now accused of lying to a Georgia Bureau of Investigation agent for saying he was at home in Forsyth County and not in the Gainesville area at the time of the alleged burglary.

"The indictment, which doesn't say what allegedly actually happened to the servers, accuses him of making a false insurance claim related to the servers," ATC reports.

For the time being, Williams remains a sitting member of the state Senate until he is succeeded on Jan. 14 by Republican Greg Dolezal.

Sponsored Links by DQ Promote