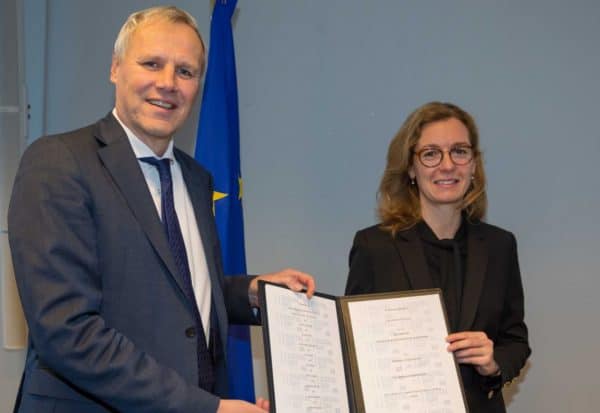 Earlier today, the Principality of Liechtenstein signed a declaration joining the European Blockchain Partnership (EBP). Liechtenstein is now the 28th European country in the Partnership.
The EBP launched in April of 2018 when 21 EU member states, plus Norway, agreed to cooperate in the establishment of a European Blockchain Services Infrastructure (EBSI). The concept is to support the delivery of "cross-border digital public services, with the highest standards of security and privacy."
"The Partnership aims to develop a trusted, secure and resilient European Blockchain Services Infrastructure meeting the highest standards in terms of privacy, cybersecurity, interoperability and energy efficiency, and fully compliant with EU law."
All members of the Partnership have pledged to help "overcome obstacles for spreading the use of innovative digital solutions across the Union and beyond."
Blockchain is also considered a key part of the EU Fintech Action and a priority for the Digital Europe Program.
The European Commission understands that blockchain is not just about finance – even though finance may be one of the first industries to benefit from the tech.  Industry stakeholders have been invited to join the International Association for Trusted Blockchain Applications (INATBA). This Association seeks to maintain a dialogue with public authorities and regulators that will contribute to"the convergence of regulatory approaches to blockchain and other distributed ledger technology globally."
It will be interesting to see how the policy initiative evolves. While much of the hype surrounding blockchain has focused on initial coin offerings the tech is really about so much more.
#EUBlockchain Partnership continues to grow. Ambassador Sabine Monauni signs the Joint Declaration and #Liechtenstein joins the #EUBlockchain Partnership. 28 countries working together with @EU_Commission to improve cross-border digital public services. https://t.co/x4BFJoaVz1 pic.twitter.com/a6MqXV2psk

— Helen Köpman (@HelenKopman) February 1, 2019
---
Fact sheet blockchain

---
Sponsored Links by DQ Promote