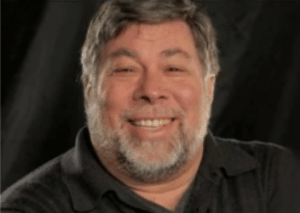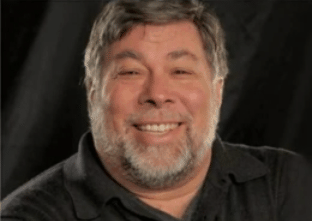 Apple co-founder Steve Wozniak granted an interview to Bloomberg's Yousef Gamal El-Din this week in which he issued calming statements about the potential of Artificial Intelligence (AI), briefly discussed bitcoin and chastened Facebook CEO Mark Zuckerberg, stating, "you can make a choice…(and) draw the (ethical) line at a good place."
While "AI gives us big advantages in our lives…It's not like how the brain works," said Wozniak:
"That kind of fast thinking needed to (navigate the world)…all that data has to be pre-scanned (to be recognized and assessed)…AI has never sat down and asked, 'What should I do next.'"
Wozniak added that he "hasn't bought into" the idea of AI obsolescing workers and leading to mass layoffs:
"For one thing, computers replacing humans, it's generally…a very simple task, done over and over. Robots…in a factory that can assemble things over and over, its a dumb-level job…Machines around for a long time have replaced muscles to build cars…and now they're getting around to do some thinking, but its not thinking like a real brain…
Wozniak "threw shade" on the prospect that AI will ever be smart enough to autonomously guide vehicles, and later expressed an interest in electric vehicles and Apple's next innovations.
While AI can be trained to recognize known objects, said Wozniak, it is unable to properly assess unfamiliar road signs, for example, and cannot effectively avoid unfamiliar obstacles:
"It's not gonna be able to read words someone wrote on the fly. It's not gonna be like the dumbest human driver. I've seen many, many obstacles driving my partially-assisted cars on the highway…I might take a drive in one of my partially-assisted cars for four days, and 100 times have to correct it to avoid something that was kind of dangerous that no car system will see ever."
Regarding numerous startups, including UBER, Air B-N-B, and Lyft all "gearing up for an IPO," Wozniak commented:
"I'm not a business guy…often when I'm involved with a company, I urge them to hold off on an IPO, because then you are no longer control your company- the shareholders are…and I'm not really…thinking about at how do we get to an IPO anyway. I'm only really thinking about how do we make a product that's good for society."
Regarding Bitcoin:
"I'm not sure I can buy that we've seen massive value destruction. I think we've seen massive value creation…I had Bitcoin to experiment with…how to travel, how to find restaurants that would accept Bitcoin…(but) I don't invest in any stocks…I don't want to be one of these people watching the price of Bitcoin. And I don't know where it is now, but I know its way over the price that I bought. And I still experiment with it on new Bitcoin devices."
Regarding high-profile scandals in social media:
"First of all I think Jack Dorsey is doing a lot more than Mark Zuckerberg to correct it. I lost a lot of respect for Mark Zuckerberg watching him speak and answer questions, and supposedly taking some steps that are nothing, not one nickel or one penny of Facebook's income- I don't trust that."

"…Foursquare, out of New York…you rate different places you go and companies- they keep a lot of data. They have been offered millions of dollars for their data on their users, and they turned it down. So you can make a choice…(and) draw the line at a good place."
Wozniak also urged healthy regulation in tech:
"Regulation is good. Regulation says 'companies will not do bad things,' or 'governments will not do bad things'…the United States is way behind Europe on recognizing these data privacy issues."
---
Sponsored Links by DQ Promote