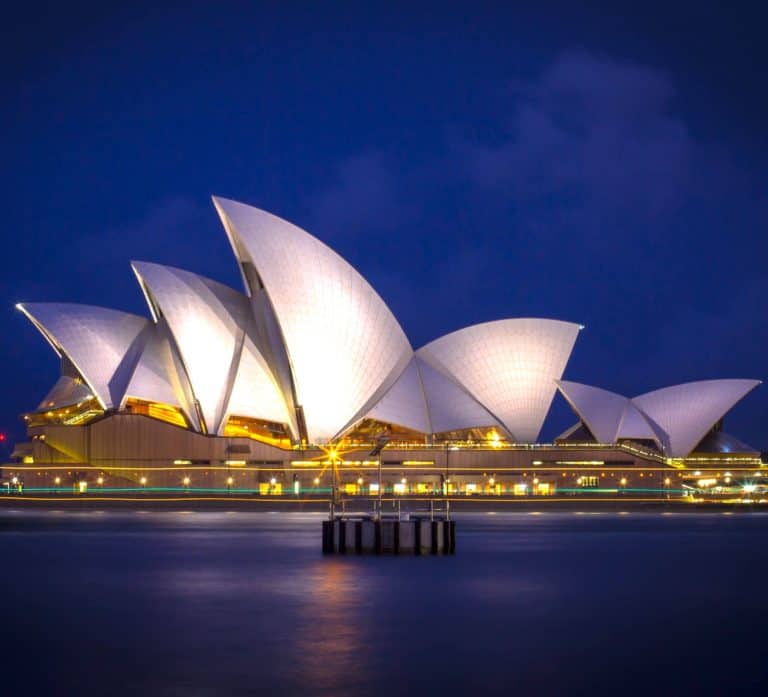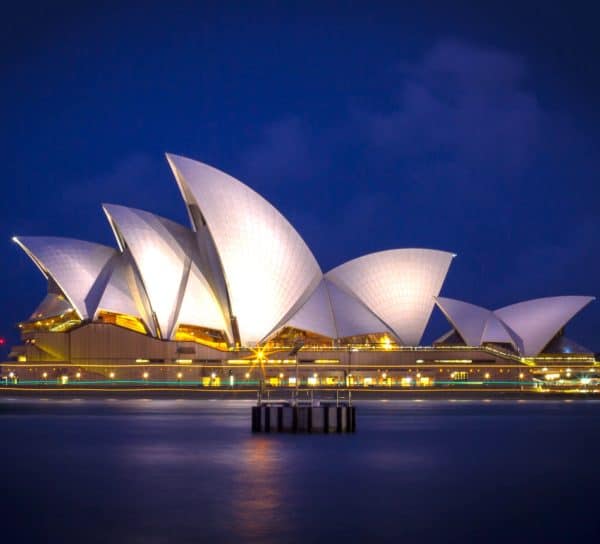 The Australian Securities & Investment Commission (ASIC) has published several reports touting the progress of Fintech in Australia. ASIC said that recent surveys show an increase in demand – aided in part by ASIC's Innovation Hub. Australia may be a smaller market but it has fostered a fairly robust Fintech ecosystem.
These surveys are designed to track the growth and development of Fintech. This includes marketplace or peer-to-peer lending and investment crowdfunding – called "crowd-sourced funding" or CSF in Australia. While ASIC has published previous reports on marketplace lending this is the first report for investment crowdfunding
ASIC says the Hub exists to "foster innovation that could benefit consumers by helping Australian Fintech startups navigate our regulatory system."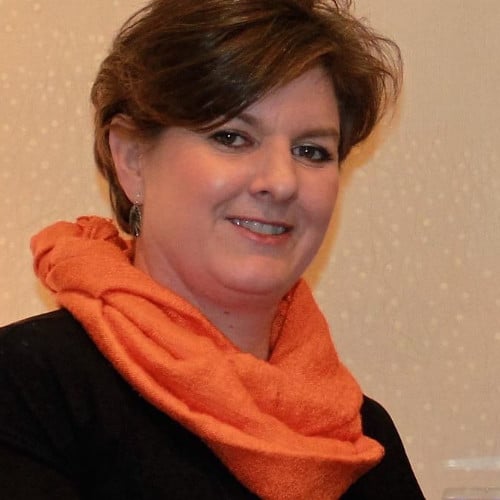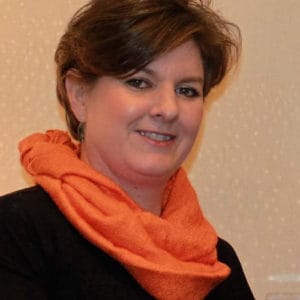 ASIC Commissioner Danielle Press issued a statement on the reports:
"The surveys help ASIC better understand the make-up of these developing sectors and how ASIC can facilitate their growth while at the same time, managing any regulatory risks they pose compared with more traditional lending and fundraising approaches. Marketplace lending is more established in the Australian market than crowd-sourced funding. While our most recent survey results show ongoing growth in both borrowing and lending activity in the marketplace lending sector, there are some indications that this growth may be moderating."
Press said that crowd-sourced funding is in its early stages. In 2018, rules for investment crowdfunding were dramatically improved. Earlier today, Crowdfund Insider reported that Australia-based CSF platform Birchal experienced solid results for Q1 of 2019. Press said these surveys help to guide ASIC as to whether or not Fintech is delivering benefits to consumers.
"ASIC will continue to monitor developments in the marketplace lending and crowd-sourced funding sectors. We are committed to facilitating innovation while ensuring investor trust and confidence is maintained, and "disruptors" to the market are held to the same standards as more traditional players," said Press.
In Australia, marketplace lending does not have a "stand-alone regulatory regime." The regulations that apply depend on the structure of the business, the kinds of financial services and products being offered, and the types of investors and borrowers involved.
In most cases, a marketplace lending platform must hold a financial services license. If loans are consumer loans, an Australian credit license is needed. Online consumer lending far outweighed business borrowing.
During the financial year 2017 to 2o18, new borrowing jumped 45%. In total, online borrowing came in at $433 million up from $300 million with outstanding loans up 59% at $518 million from $327 million.
A total of 13,446 investors and 31,421 borrowers utilized the marketplace lending platforms as of June 30, 2018. This was a significant increase in comparison to the 2016-2017 period. The rate of investor growth was slightly lower compared with the 2016–17 financial year, while the total amount invested increased by $108 million.
The survey reviewed 13 platforms but the Australian market is currently dominated by two individual platforms with 80% of the market.
Average loan default stood at 2.9% of loan value a slight increase from 2.3% during the 2016-2017 period.
It is interesting to note that ASIC surveys fraud and suspected security breaches. During the most recent period, only one platform reportedly had cybersecurityty "incident." There were 545 instances of application fraud.
This is ASICs first crowdfunding or CSF report, which covers the period for 2017-18 and covers the first six months of CSF activity in Australia – from 11 January to 30 June 2018. During the survey period, there were 14 CSF offers, half of which were successful and half of which were "incomplete."
The successful rounds raised $7.04 million. The majority of funds (77.5%) raised were from retail investors. Nearly all (99.4%) of the 17,457 investors in the successful rounds nearly were retail investors. There were 110 "wholesale" investors who participated.
Under current rules, an issuer may raise up to $5 million in an online securities offering. Retail investors are capped at $10,000 per year, per company.
As of June 30, 2018, there were eight approved investment crowdfunding platforms. Since that date, the number has doubled, reported ASIC.
ASIC expressed its concern that the number of platforms can be supported in a relatively small market. But ASIC said, "it is early days for the CSF industry in Australia and the expansion of the CSF regime to proprietary companies in October 2018 has added further scope for growth."
ASIC said that the number of Fintech's continue to grow:
"We consider it is important to continue our engagement with CSF intermediaries and eligible CSF companies. This allows us to further understand the types of company raising capital through crowd-sourced funding, monitor activity and assess any risk indicators that emerge as the industry grows … We will continue to monitor the CSF regime and will provide advice to Government as appropriate about any necessary refinements. At this stage, it is too early to form a view as to whether the CSF regime is a sustainable means of providing capital funding to businesses."
An interim study may be forthcoming on the 2018-2019 financial year.
---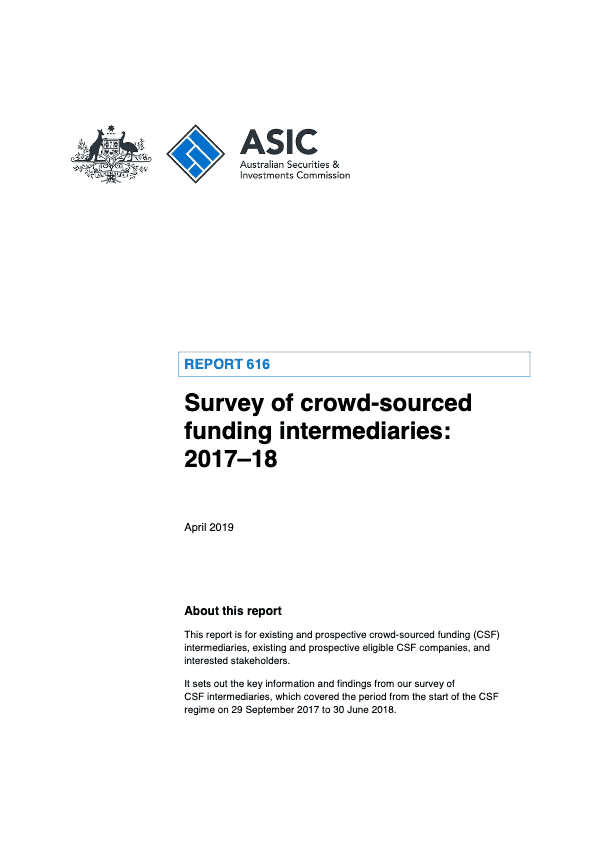 ---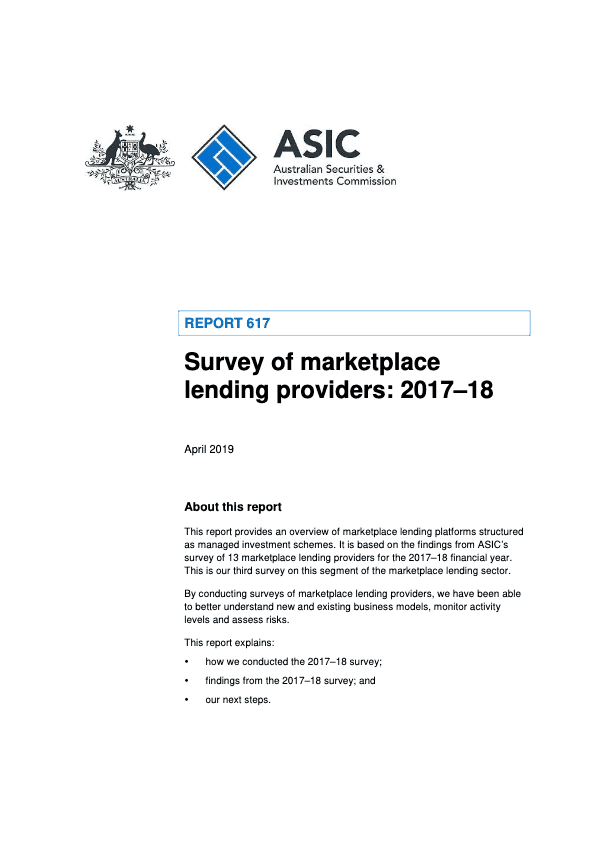 Sponsored Links by DQ Promote