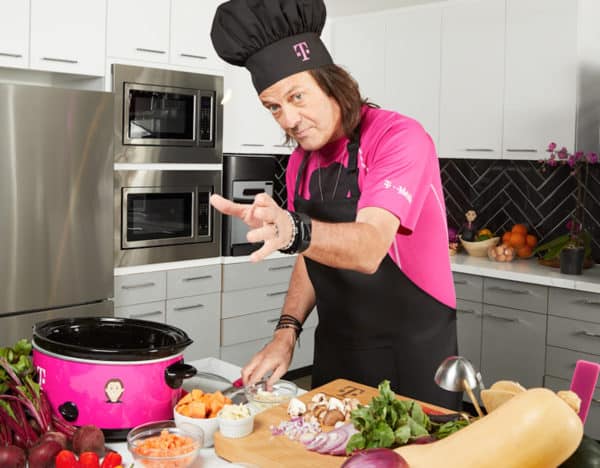 While everyone in the mobile community is talking about when 5G hits and how the world will change forever as  HD movies download in minutes and VR actually works like VR should, T-Mobile is talking about another innovation; one of the Fintech kind. T-Mobile is entering the realm of stealth banking by providing bank-like services without really becoming a bank. You have to give credit to John Legere because he is really cooking up something new to help differentiate his mobile network from his competitors.
T-Mobile is entering the realm of stealth banking by providing bank-like services without really becoming a bank #Fintech @JohnLegere
T-Mobile Money is a no fee, interest-earning, mobile checking account. What say you about ATMs? You will have access to 55,000 of them according to the company (fee free service).
Legere's "un-carrier" will pay up to 4.00% (APY) interest on the first $3000.00 parked in the account. With his telltale charm, Legere explains:
"Traditional banks aren't mobile-first, and they're definitely not customer-first. As more and more people use their smartphones to manage money, we saw an opportunity to address another customer pain point. You work hard for your money … you should keep it … and with T-Mobile MONEY, you can!"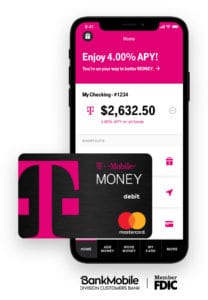 Like traditional banks should be already, but for some reason, they cannot do it, T-Mobile Money and its mobile-first banking service will allow consumers to deposit, pay bills, send money, use mobile wallets like Apple Pay or Google Pay, plus generate account alerts and more.
So how does T-Mobile offer these bank services without becoming a bank? It all comes down to regulatory arbitrage.
T-Mobile has partnered up with Customers Bank (NYSE:CUBI), a smallish publicly traded bank with $9.8 billion in assets (as of December 31st).
There are a few requirements for using the service. If you want to receive that 4% rate you have to be a T-Mobile user. If you go over the $3000.00, your interest rate drops to just 1%. That may sound like a pretty steep drop until you compare it to what most banks payout which is pretty ridiculous.
One must wonder what Jurassic traditional banks think about all of this. Huddled in the relative safety of their bank branches, banks thought they had identified the front line skirmish with established Fintechs. Now banks have another battle at hand with T-Mobile and CEO John Legere. Does anyone want to predict a winner?