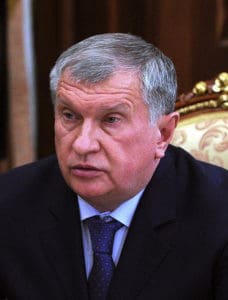 Igor Sechin, head of Rosneft, Russia's state oil company and reported second-in-command to Russian President Vladimir Putin, told colleagues in St Petersburg this week that the creation of a "Facebook  Global Coin" cryptocurrency could signal American tech companies' ominous intention to start moving into oil and gas sectors, RBC reports.
According to Sechin:
"We see their significant investments in the development of universal technological solutions for processing large data arrays, developing alternative forms of transport, including unmanned vehicles and ecosystems of the 'sharing economy,' as well as in the world of financial and currency instruments…(and investments) are made at a speed unprecedented until now and truly on a global scale."
Rumours have been circulating for months regarding Facebook's secret development of cryptographic token or coin that the company may use to underpin an in-built payment feature on Facebook.
So far, all that is known is that Facebook has been accumulating personnel for its "blockchain" division, including high-profile hires from payments, compliance and crypto sectors.
The company has also reportedly conducted informal talks with regulators, including the CFTC, regarding a possible "Facebook Global Coin" product, which may be tied to "a basket of currencies" rather than just USD.
Sechin reportedly believes that Facebook Global Coin could be used to denominate barrels of oil in the near future, "which at least is proof that some of those present here are engaged in the wrong business," he joked.
Russian officials have been making public statements over the past two years regarding how cryptocurrencies might be used to help Russia and allies assert their sovereignty in global markets, some of which are under the sway of US sanctions.
Sechin also reportedly expressed concerns about how new financial tech might kick up "volatility" and other risks in global markets:
"Greater flexibility often means greater volatility, and digitalization creates risks for maintaining commercial secrets and leads to the need to create new regulatory mechanisms, additional redundancy. Today, technology companies do not have high-quality answers to these fundamental questions."
He also reportedly warned his associates about the "incredible power" that technology companies have, power that could be harnessed in the interests of the US and that country's law enforcement divisions:
"The ability to use their global status and access to information seems too tempting for the law enforcement agencies of one big country of the New World.
Uncontested, said Sechin, that power means, "…regulatory, sanctions and customs tariff imbalances are likely to increase."

Sponsored Links by DQ Promote