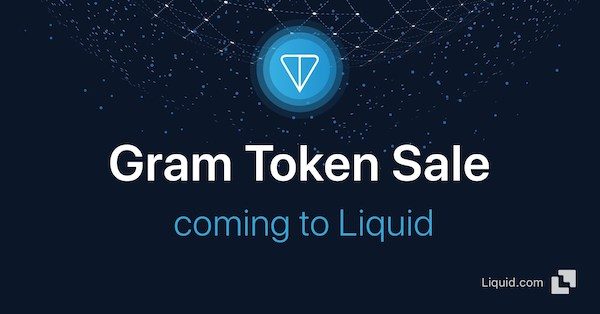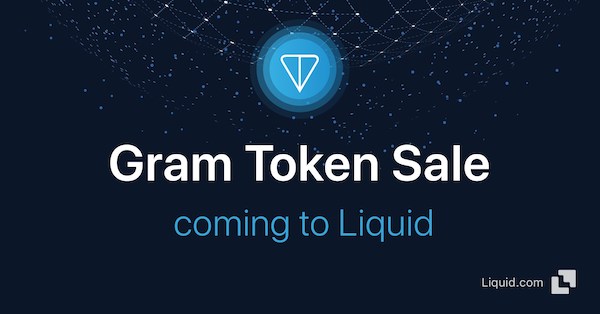 Global cryptocurrency exchange Liquid.com announced on Tuesday it has been selected by Gram Asia, the largest holder of Grams from Asia, to lead the upcoming public sale of Telegram Open Network (TON). According to Liquid.com, Gram is the native token of TON Blockchain, a decentralized network being developed by privacy-focused messaging platform Telegram. The Gram public sale will be hosted on the Liquid platform (Gram token sale).
"The Gram token sale has been highly anticipated by the public markets and can only be bought once it is released on secondary listing platforms such as Liquid. Liquid had hosted its own Qash token sale successfully in 2017, selling out 350 million Qash tokens, equivalent to $105 million, in three days. Liquid is the exclusive platform for the Gram token sale globally."
While sharing more details about the sale,  Mike Kayamori, Co-Founder and CEO of Liquid, stated:
"We are excited to be partnering with Gram Asia to launch the Gram token sale, which is wonderful news to our community who are native users of Telegram. We share the vision for a more secure and open value transfer system in order to enable the mainstream adoption of cryptocurrencies. The TON Blockchain infrastructure can help enhance Telegram's current capabilities as a peer to peer network of value, with the launch of their cryptocurrency light wallets for Telegram's highly engaged user base."
Dongbeom Kim, founder and CEO of Gram Asia, added:
"The Gram token sale is the first step towards The Open Network, a truly decentralized form of TON blockchain. Gram Asia, as the largest holder of Grams from Asia, is excited to bring the opportunity for retail investors to join the TON ecosystem. As the first Japan FSA licensed global exchange, Liquid has demonstrated strong governance capabilities for protecting its users; therefore, I firmly believe Liquid is the right partner to launch this historic token sale. We are excited to invite all believers in Telegram's vision, globally and in Asia, to build on top of TON, leveraging the critical mass of Telegram's user base."
The Gram token sale will take place on Liquid on the July 10th at 8 a.m. UTC. Participants of the Gram token sale on Liquid will be able to purchase Grams with the following currencies: USD and USDC. The sale's announcement comes less than six months after Iran's Secretary of the Criminal Content Definition Task Force, Javad Javidnia, issued a warning for Iranians to stay away from the Telegram token. Javidnia stated:
"… Any cooperation with Telegram messaging app('s)…launch (of) Gram, the messaging app's cryptocurrency, in Iran constitutes an action against national security and will be dealt with as a disruption to (the) national economy."
Secretary Javidnia also noted his government will no longer be distracted from dealing with the 'threat' posed by Telegram's new investment vehicle:
"One of the most important factors in banning Telegram was a sense of serious economic threat from its activities, which was unfortunately marginalized and neglected due to the fuss in the political atmosphere of the country."
Telegram, which is an anonymizing, encrypted messaging platform that was created by exiled Russian Internet entrepreneur Pavel Durov and launched in 2013, now services about 200 million users worldwide and claims to be signing up 500 000 new users per day.