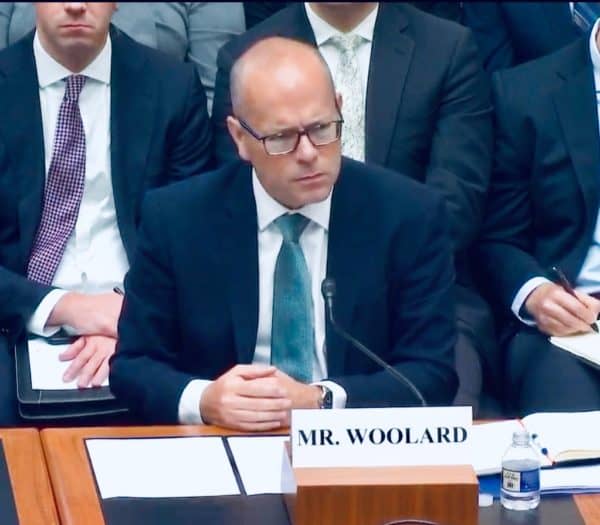 Financial Conduct Authority (FCA) Director of Competition Christopher Woolard testified before the House Financial Services Committee Fintech Task Force today.
The other witnesses participating in the hearing included:
Paul Watkins, Assistant Director, Office of Innovation, Consumer Financial Protection Bureau (CFPB)
Beth Knickerbocker, Chief Innovation Officer, Office of the Comptroller of the Currency (OCC)
Valerie Szczepanik, Associate Director of the Division of Corporation Finance and Senior Advisor for Digital Assets and Innovation, Securities and Exchange Commission (SEC)
Charles E. Clark, Director, Department of Financial Institutions, State of Washington, on behalf of the Conference of State Bank Supervisors (CSBS)
The newly formed Task Force is designed to seek out solutions to encourage benevolent innovation in the financial services sector.  Announced by House Financial Services Committee Chairwomen Maxine Waters in May, the bipartisan Committee will hold hearings for legislators to better understand innovations in financial services.
Woolard, as a member of the leading global regulatory body when it comes to facilitating Fintech, provided valuable non-US perspective to committee members. As the regulatory ecosystem is less fragmented in the UK, the two jurisdictions can generate a good amount of contrast. The UK is widely recognized as the gold standard in embracing change.
In the US, financial services must submit to a dozen or so federal regulators as well as 50 different state regulators which are loathe to reduce any of their political influence. The US regulatory system is convoluted and Byzantine at its best.
In the UK, the FCA is the lead regulator when it comes to much of the financial services industry acting as a point of focus for innovation.
While Woolard's opening testimony was brief, he provided the below presentation for Committee members to review.
A handful of other US federal regulators, besides the four mentioned above, were unable to attend.
---