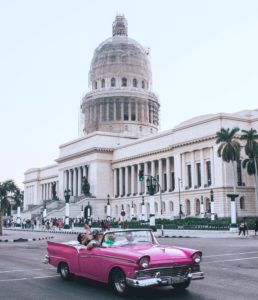 Cuban Economy Minister Alejandro Gil Fernandez has told the Cuban public that, together with academics, his ministry is, "studying the potential use of cryptocurrency…in our national and international commercial transactions."
Fernandez made the comments in a recent roundtable discussion of intended economic reforms broadcast on Cuban state-run TV,  Reuters reports.
Little else appears to have been said about the cryptocurrency strategy at this time, and it was just one of several reforms discussed, including, "hikes in some pensions and wages for workers in public administration, social services, and state-run media, bringing the median monthly wage in those sectors up to the equivalent of $44.5 from around $25 previously," according to Reuters.
The latest reforms are reportedly an extension of those initiated by Cuba's last president, Raul Castro, under new president Miguel Diaz-Canel, as Cuba attempts, "to boost its economy amid a deepening crisis exacerbated by U.S. sanctions."
Cuba may be taking page from ally Venezuela, which launched its "el Petro" cryptocurrency in 2018 in an effort to raise capital and sidestep increasingly onerous US sanctions under Trump.
Cuba is also coping with price increases as well as "sharp declines" in aid from Venezuela as that country falters from hyperinflation, mismanagement, an outpouring of refugees, and, some would say, foreign interference.
Cubans like Pavel Joaquin Hernandez, 46, a general practitioner, called his expected raise, from $40 USD per month to $64 USD, "not ideal, but it's an advance."
Cuban economist Omar Everleny said the raise was crucial for motivating workers, who are otherwise emigrating.
"For the first time, (the government) is linking the fact that everything can be achieved if workers are motivated," he said.
In addition to raising wages, a move intended to help boost internal spending, Fenandez said his ministry also plans to break up some of the centralization at Cuba's state-run companies in order to make them run more efficiently.
For instance, said Fernandez, Capital from financial services firms could probably flow faster to where it is needed if a number of smaller firms were managing the monies.
He also said his government will work to substitute imports and increase exports, and will open up a program that allows companies to keep a percentage of their hard cash revenues for reinvestment rather than having to apply for credit from the state.
As well, according to a paraphrase by Reuters:
"State companies, agricultural entities and other economic actors that supply a growing number of firms in the Mariel Special Economic Zone, a project resembling China's first capitalist oasis, would receive a percentage of sales in hard currency, Gil Fernandez said."
Sponsored Links by DQ Promote