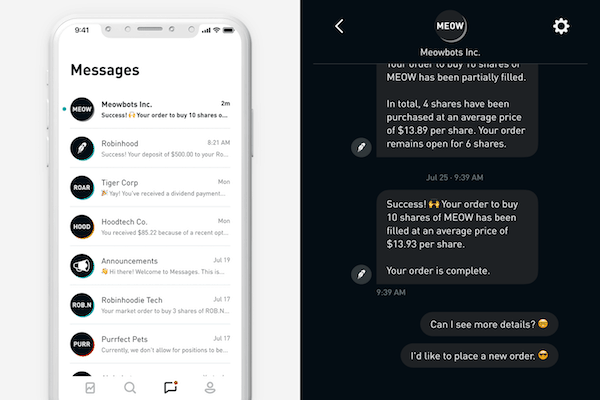 Robinhood announced earlier this week the launch of its new feature, Messages, which provides timely, relevant and actionable for user accounts. The company reported it'll send users account updates, such as deposits, withdrawals, and banking linking messages specific to the user's holdings and announcements.
"To ensure that the most important information reaches you first, critical messages are marked with a red dot, and appear at the top of the page until read. You can mute threads, and still access these updates from the Messages tab."
Robinhood went on to add that Messages will begin rolling out to customers slowly as the platform continues to make improvements, so users might not see them in the app immediately.
"We're already working on adding more features, and your feedback will help us prioritize what to build first."
The launch of Messages comes just days after Robinhood announced it raised $323 million through its Series E funding round, which was led by DST Global, with participation from investors including Ribbit Capital, NEA, Sequoia, and Thrive Capital.

Sponsored Links by DQ Promote