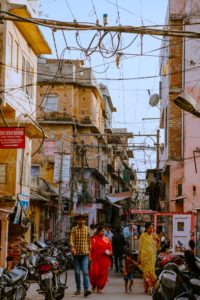 Indian telecom company Reliance Jio will launch, "one of the largest blockchain networks in the world over the next 12 months," the company's owner, Mukesh Ambani, told attendees at the company's annual General meeting August 12th.
Ambani also promised, "The network will have tens of thousands of nodes operational on day one," though the slide displayed behind him promised "1000s" of nodes.
Ambani described a sort of all-purpose network but otherwise did not go into much detail.
His description included key language and claims often made regarding the "panacea" applications of "blockchain," a type of encrypted, shared database technology popularized by Bitcoin but available since the 1970s according to certain technologists.
"Using blockchain, we can deliver unprecedented security, trust, automation and efficiency to almost any type of transaction," said Ambani. "This is a vital capability for India, especially for modernising our supply chains for agricultural produce and other goods which form the lifeblood of our economy."
Ambani also said, "Data is wealth and Indian wealth must remain in India," before claiming that his company's privately-deployed network would not be corporate:
"(U)sing blockchain, we also have an opportunity to invent a brand-new model for data privacy where Indian data, especially customer data, is owned and controlled through technology by the Indian people and not by corporates, especially global corporations."
"Blockchain" tech has been much-hyped, particularly because it formed the basis of networks used to circulate cryptocurrencies and ICO (initial coin offering) tokens.

Both boomed on speculative mania until late 2017 before going bust early the next year, and a majority of projects have either failed entirely or have failed to establish more than niche demand.

Researchers at Columbia law school recently concluded that many "speculative" and established companies "stimulated investor attention" between 2010 and 2018 by advertising implementation of "blockchain."

"Few firms…(,however,) developed successful blockchain projects," the researchers claim.

Sponsored Links by DQ Promote