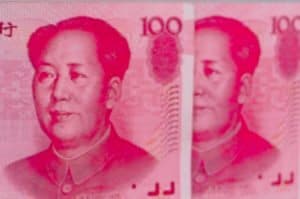 Tether is continuing its bid to sell synthetic versions of world currencies by issuing yet another "stablecoin," this time in the form of CNHT, which will act as a proxy for offshore Chinese yuan (CNH).
Tether, its parent company iFinex and sister company, crypto exchange Bitfinex, are all currently under investigation in New York for alleged fraud.
This week, the companies lost their five-month battle against ex-parte orders issued by the New York Attorney General compelling them to provide comprehensive business records.
Chinese cryptomedia outlet ChainNews says Bitfinex shareholder Zhao Dong, a supposed crypto billionaire, disclosed the news regarding CNHT, and says he will be hosting CNHT on his crypto trading platform, RenrenBit.
South African crypto-and-conventional trading platform eToro already offers a stablecoin crypto version of onshore yuan (CNY), but, according to Business Insider, unlike onshore yarn, which trades within a narrow band set by the Chinese government, offshore yuan is allowed to float.
Chinese merchants reportedly like to sell goods for onshore yuan and then cash out the money in Hong Kong offshore yuan money markets, where exchange rates are sometimes higher.
The outlet says the offshore version of the yuan was created by China as it, "open(ed) up its economy…(and) wanted  its currency to be used in the international market to settle trade and financial transactions, without, however, fully opening up its capital account."
In late July, Coindesk reported that standard USD-pegged tethers have supplanted bitcoins as the remittance currency of choice used by Chinese merchants selling goods in Moscow.
Sources to the outlet claim that up to $30 million USD is being transferred into China from Russia every day in this way.
US regulators from Maxine Waters to Steve Mnuchin to Kenneth Blanco have all lately stressed the national security implications of global crypto networks, which may enable illicit finance and sanctions evasion.
Meanwhile, Russia and China already appear to be successfully experimenting, as promised, with "uncensorable" money networks they hope will allow them to disrupt American global financial dominance.
Anonymous critics on Twitter have been warning for several years about suspicious activity at Tether and Bitfinex.
When news about Tether's CNHT broke, "Vilecarlo The Tether Whisperer" posted a satire on his Twitter stream.
The characters in the satirical dialogue are JL van der Velde, CEO of both Bitfinex and Tether and Giancarlo Devasini, Chief Financial Officer at Tether: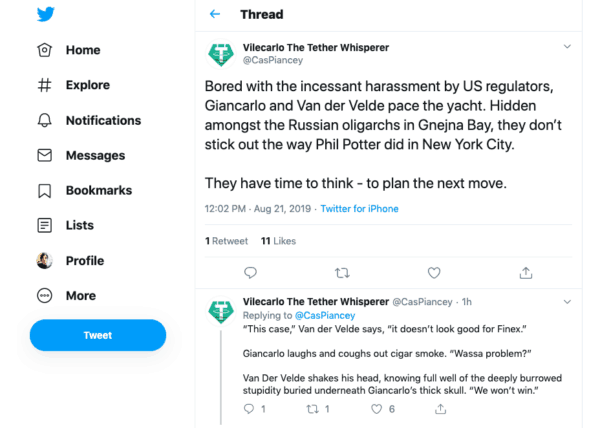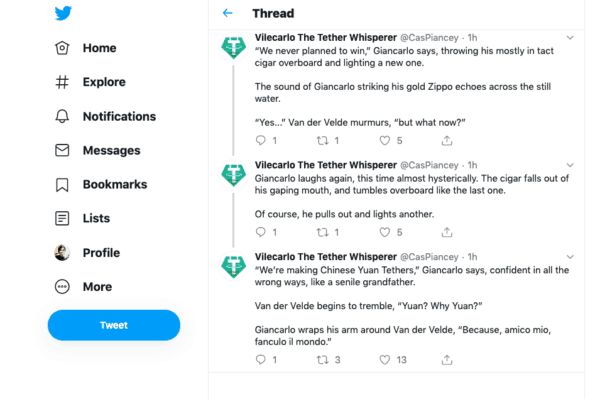 Translated, "amico mio, fanculo il mondo," means, "my friend, fuck the world."

Sponsored Links by DQ Promote