Prime Trust, a blockchain-driven trust company, announced on Thursday it has integrated with Vertalo, an operating system for digital assets, to provide proprietary asset tokenization and cap table management solutions to its crowdfunding business unit, which is formerly known as FundAmerica.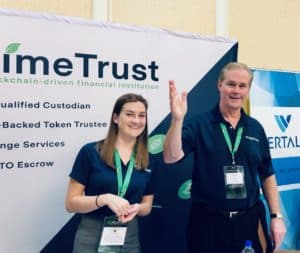 Prime Trust reported that through the partnership, the following will be done:
The creation and support of on-chain cap tables for thousands of Prime Trust crowdfunding issuers through the Vertalo Registry, a service which is directly connected to Prime Trust's Custody, KYC/AML, escrow, and onboarding services
Preferential pricing for Prime Trust clients who choose to utilize Vertalo's B2B SaaS cap table platform, and simple opt-out for those who wish to use a spreadsheet or other platform to manage their investor file
The option for participating issuers (Prime Trust clients) to tokenize their cap tables from within their branded Vertalo interface at any time in the future, using any issuance platform or smart contract that is supported by an exchange and partnered with Vertalo
Speaking about the collaboration, Kevin Lehtiniitty, CPO for Prime Trust, stated:
"Vertalo has come to the realization that mass adoption of asset tokenization requires that blockchain specific concepts such as wallets and addresses be black-boxed from the typical retail user. We at Prime Trust share the belief with the Vertalo team that crossing the chasm requires abstraction and simplicity, which makes us excited to announce this partnership. Using Vertalo's very intuitive tools, any issuers from our crowdfunding business will be able to manage and tokenize their securities as well as provide their investors with UI access to view their investment."
Dave Hendricks, CEO of Vertalo, added:
"Vertalo's partnership with Prime Trust will provide their thousands of clients with Vertalo's on-chain cap table, issuer and investor interfaces, enabling Prime Trust's clients to directly connect with their investors for the goal of improving the investor relations and ownership experience. Prime Trust clients who convert to Vertalo will also be provided with ultra-low cost 'optional tokenization' of their cap table in the event that they want to convert their paper shares to digital assets for trading on Vertalo partners such as OpenFinance."
The collaboration with Vertalo comes just a couple weeks after Prime Trust Amanda Ortega, previously a Deputy Banking Commissioner for the State of Wyoming, as Chief of Regulatory Affairs and Compliance. As previously reported, Ortega was instrumental in providing counsel to legislators regarding new banking models in general, and blockchain technology in particular. Her work apparently laid the foundation for the State of Wyoming to become the first state to embrace blockchain technology.