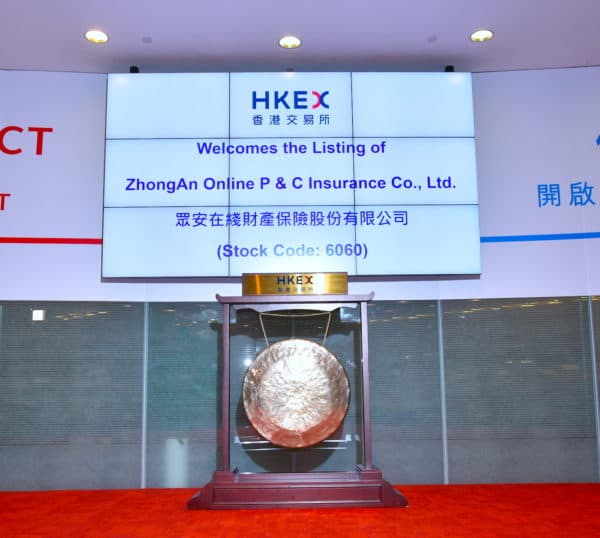 ZhongAn Online (6060:HK), a Honk Kong-listed Insurtech, has reported a profit for the first 6 months of 2019 – the first time in the company's history, according to a company release. As of 30 June 2019, ZhongAn Online said it provided services to 348 million users, 58% are aged 35 or younger.
ZhongAn said it continues to integrate technology into every process in the insurance sector so as to "reshape the entire insurance value chain."
ZhongAn says it has achieved a "turnaround with net profit" of RMB 94.5 million (~ USD $ 13.2 million). Last March, ZhongAn reported an annual net loss of around USD $260 million.
ZhongAn reports that gross written premiums have jumped 14.5% year over year amounting to RMB 5.9 billion. The company also pointed to the loss in underwriting business that has been slashed by 43.3% to RMB 490 million and expenses have been cut. ZhongAn has also benefited from a RMB 757.9 million in investment income, a 118.3% increase year prior.
Xing Jiang, CEO of ZhongAn Online who took the top job this past July, said the decisions made under their "dual-engine strategy of Insurance + Technology," fueled the turnaround:
"… we focused on developing our core business when scaling down lower underwriting quality businesses, and to continue enhancing [the] business structure. We shall continue to further improve our cost-effectiveness through technology and innovation, and achieve steady high-quality growth in business."
ZhongAn Online reports that in the first half of year 2019, the consumer finance and auto ecosystems contributed RMB 1.7 billion and RMB 582.5 million in premium, representing 16.8% and 25.8% year-on-year growth respectively.
Lifestyle consumption ecosystem has been a major growth driver, generating a total of RMB 1.4 billion in premium, up 81.8 % compared with year prior. ZhongAn said the strong performance is attributed to the strengthened partnership with Ant Financial.
ZhongAn's health segment generated a total of RMB 1.4 billion in premiums in the first half of 2019.
The company said it has scaled down the group insurance business and focused on the core "Personal Clinic Policy series." Of note, in July this year, ZhongAn Online obtained a license for an internet hospital in Hainan to connect insurance with medical services.
ZhongAn is also expanding its presence across Asia by establishing a direct presence as well as with partnerships.
Importantly, ZhongAn is one of a handful of Fintech firms to receive a virtual bank license from the Hong Kong Monetary Authority (HKMA) thus creating a larger opportunity to provide a portfolio of financial services. Zhong An's subsidiary ZA Bank Limited "has opened the door to a new business segment." The company said that ZA Bank will "make use of its proprietary technologies and big data capabilities to create innovative online financial products and services that cater to the needs of the local Hong Kong users."
Jiang said they will continue to make investments into R&D to develop Insurtech both domestically and internationally:
"We aim to drive the transformation of the insurance industry in Asia, and all over the world," stated Jian.
Sponsored Links by DQ Promote