UK-based peer-to-peer lender RateSetter announced on Tuesday the launch of its new investment products. The lending platform reported that its goal is to deliver the most consistent returns and the most liquid investment in peer-to-peer investing. RateSetter noted that its delivery of consistent returns is enabled by the collective investment effect of the Provision Fund and it also has a track record of delivering liquidity.
"However, we can increase liquidity further. This is because investments at RateSetter are currently spread across three markets (Rolling, 1 & 5 Year), which means supply and demand is set at a market level. Supply and demand is, of course, a feature of peer-to-peer but we can increase liquidity by bringing all the investments together.  For this reason, we are launching three new products – called Access, Plus and Max – and we are founding them on a single market. The difference will be transformational because it will mean that both the consistency of returns and liquidity will come from the entire portfolio."
The following is RateSetter's latest products: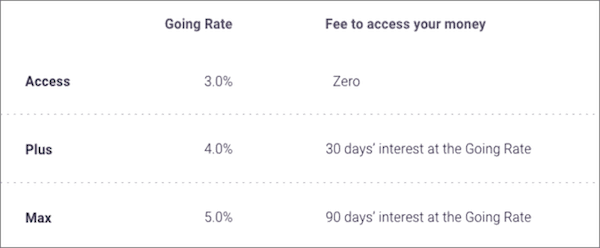 RateSetter revealed:
"With Access, Plus and Max we are keeping the best features that you are used to, including the ability to set Your Rate, while making the products even more consistent, liquid and easy to use."
RateSetter then shared:
"There is no change to the existing 1 Year and 5 Year products. They continue as they are and nothing changes for your investments in those products.  The Rolling product will be re-named Access, with the only effective change being the move to Going Rate.  You will see some updated functions in your online account in line with the new products. "
RateSetter reported that with the new products it is also increasing the levels of liquidity. The new products will be available on October 3rd.