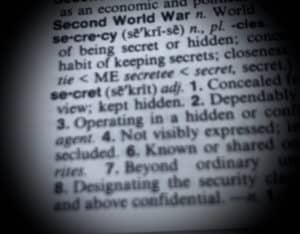 The vice-president of the Financial Integrity Network, a strategic advisory firm to governments, global and regional banks and other institutions, has advised that all entities in the cryptocurrency production and distribution chain be brought under the auspices of the Bank Secrecy Act.
According to Search Financial Security, "The Bank Secrecy Act (BSA), also known as the Currency and Foreign Transactions Reporting Act, is legislation passed by the United States Congress in 1970 that requires U.S. financial institutions to collaborate with the U.S. government in cases of suspected money laundering and fraud."
Under current rules, crypto exchanges and custodians are classed as money services businesses under the BSA, but crypto miners and token issuers are exempted.
David Murray made the recommendation in testimony he gave September 3rd before a subcommittee of the US Senate Committee on Banking, Housing and Urban Affairs in a session convened to address "Human Trafficking and its Intersection with the Financial System."
Murray told the subcommittee that:
"Virtual assets…have proved vulnerable to criminal exploitation…because they offer rapid and irrevocable settlement and the potential for anonymity…(and) there is no entity performing a governance function and controlling admission to the payment system."
He cited a study that found that Bitcoin transactions, "are on a pace to top $1 billion this year," and said ensuring that cryptocurrencies and tokens do not figure even more into illicit finance, "will become even more important as virtual assets become more credible challengers to existing consumer payment tools."
Murray said human trafficking is "highly profitable," and has been generating $150.2 billion in annual profits since 2014, according to the International Labour Organization.
75% of human trafficking involves sexual exploitation, he said, and, "Developed economies are the most profitable for human traffickers, with criminal organizations earning more than $34,000 annually in profit from each victim in North America."
Whereas drug trafficking in the US is primarily a cash business, "Human traffickers may receive money from buyers either in cash or through electronic means…"
For example:
"Purchasers of sex tend to pay in cash, which means that human trafficking for sexual exploitation generates high volumes of cash, according to the FATF. Purchasers of sex may also use cryptocurrencies to pay for premium memberships on websites that they use to review services. When human trafficking organizations use fronts such as massage parlors, they may accept credit cards…At higher levels of human trafficking organizations, human traffickers have exploited anonymous companies to conceal their activities."
As well:
"Traffickers also are now turning to payment tools that allow them to remain anonymous, such as prepaid cards and cryptocurrencies, for purchases of advertisements and websites."
Because of the complexity of human trafficking businesses, there can be many "touchpoints" where red flags might be detected by firms and law enforcement, Murray said:
"The predominant business model for human trafficking therefore requires human trafficking organizations to manage three primary funds flows in the United States: money for logistics such as transportation and lodging, money paid by purchasers of sex to low-level operatives, and money transferred from low-level operatives to the larger organization."
All told, Murray made, "three recommendations to disrupt human trafficking organizations by increasing financial transparency":
Ban anonymous companies.
Strengthen cryptocurrency regulations "by creating a new class of financial institution: virtual asset transaction validators…The lack of systemwide financial crimes compliance (FCC) governance for some existing cryptocurrencies allows criminals space to operate and makes it difficult for the United States to isolate rogue service providers from the U.S. financial system."
Improve transparency of retail and other consumer payments. "Changes in the payments industry are reducing transparency of retail and other consumer payments throughout the value chain, making it difficult for downstream financial institutions to understand their customers' sources of funds and the illicit finance risk that each customer poses to the financial institution."
Small transaction sums are helping keep human trafficking under the radar, he noted:
"Payments involving human trafficking victims and low-level operatives tend to involve small amounts, well below the $5,000 SAR threshold challenging financial institutions' anti-money laundering (AML) programs, which are geared primarily toward detecting larger payments."
Anonymous companies are shielding high-level human traffickers from detection and are helping drag out investigations:
"At higher levels of human trafficking organizations, criminal organizations employ sophisticated money laundering techniques to evade detection, including by exploiting anonymous shell companies to conceal their activities. As a result, investigations can be lengthy."
Murray suggested that, "virtual asset transaction validators (miners) could be gatekeepers for virtual asset systems if they are brought into the scope of the BSA. At a minimum, virtual asset transaction validators should be required to govern participation in their validation systems, with well-designed programs for vetting the issuers, exchangers, and custodians that they serve."
It is likely that many Bitcoin validators, say, would disagree with this on principle. As well, compelling miners to do this across the board could prove difficult.
Murray closed by saying, "The heinousness of human trafficking demands a swift response that enables financial institutions to prevent …transactions related to human trafficking or to detect them quickly…"
He also suggested those same weaknesses that enable traffickers have other security implications:
"We can better protect our financial system by banning anonymous companies, strengthening cryptocurrency regulation, and improving transparency of retail and other consumer payments."
Sponsored Links by DQ Promote