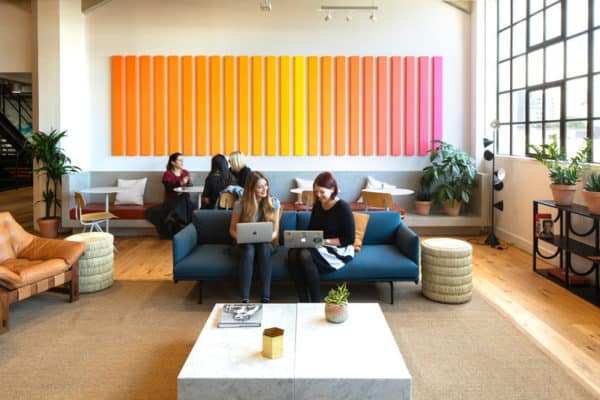 We Co., WeWork's parent company, is planning to make major changes to the management of its business operations after stakeholders expressed their dissatisfaction with the company's unusual governance model ahead of its upcoming IPO.
The firm's parent company had initially proposed that 20 votes should be given to WeWork's founders and early backers for each share of Class A stock. However, the New York-based firm's management has now decided to give only 10 votes each, according to a filing submitted ahead of the planned IPO.
As reported by CNN, the extra votes might turn into only a single vote, if company co-founder and CEO Adam Neumann passes away or becomes incapacitated.
Neumann currently has 2.4 million of the total shares, however, his stake does not make him a majority shareholder. Approximately 32.6 million are owned by venture capital firm Benchmark Capital Partners and its head and one of WeWork's directors Bruce Dunlevie. 
Collectively, these super voting shares will have majority control of the company.
According to Friday's filing, there will also be a change in how Neumann's successor will be appointed.
Before the proposed change, Neumann would have been replaced by a successor (if he died or became incapacitated) that would have been appointed by a committee established by two of the firm's directors and the CEO's wife Rebekah Neumann.
However, the updated plan requires that the board of directors choose a successor, which is a common practice among public companies.
As noted in the company's filing:
"We will not rely on a succession committee. Our board has the ability to remove our chief executive officer." 
The filing also mentioned:
"No member of Adam's family will sit on our board."
WeWork's latest filing comes shortly after several reports suggesting that the company might postpone or decide not to move forward with its public offering. 

There were also reports that the company's valuation might be slashed, however, the updated estimated valuation was not mentioned in the recent filing.

WeWork's management is seeking a valuation of around $20 billion for its upcoming IPO.

Previously, the company was valued at nearly $47 billion, according to research firm CB Insights. 

WeWork has been growing rapidly. During the first half of this year, it generated $1.5 billion in revenue, which is notably double what the company made during the same period in 2018.

Compared to 2016, WeWork's revenue has grown by 250%. But the company's losses have also increased significantly, as it recorded a net loss of $904 million during the first half of 2019 and a total loss of $4.2 billion since early 2016.

Last month, when We Work's parent company filed paperwork to go public, it was criticized for how it conducted its business operations, particularly its huge losses, the unchecked power of its CEO,  and also failing to appoint a female board member.

Responding to the complaints, WeWork announced it would appoint its first female board member, Frances Frei, a professor at Harvard Business School (after completing its IPO). 

The company also said Neumann had agreed to repay the company $5.9 million in stock, which was received by his WE Holdings LLC, after selling the trademark "We" to The We Company. 

In January of this year, WeWork rebranded to The We Company, which serves as an umbrella company to the company's wide range of businesses.

Sponsored Links by DQ Promote