Sam Kazemian, an Iranian-American software engineer who is a co-founder of Everipedia, a for-profit wiki-based online encyclopedia, and founder of Frax (Decentral Bank), a new stablecoin which will be a decentralized currency pegged 1-to-1 to the US dollar. 
Kazemian recently shared his views and insights with Crowdfund Insider.
Crowdfund Insider: Please explain how you are developing your stablecoin, Frax.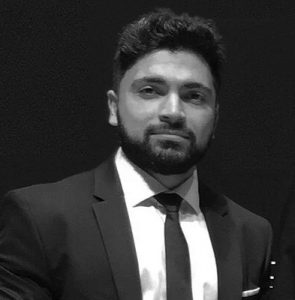 Sam Kazemian: "Frax is an algorithmic, fractional-reserve stablecoin. We are going to release the first truly decentralized algorithmic stablecoin after various attempts have failed such as Basis.
Frax uses on-chain lending (similar to compound.finance) to create interest cash flow that is used to buy back FRX stablecoins if the price drops. This is similar to how a central bank buys back currency with bonds by issuing debt."
Crowdfund Insider: What are the most recent developments associated with the Everipedia project? Why is it important?
Sam Kazemian: "Everipedia is doing great. We recently had our highest traffic month. We also just released our prediction market product: prediqt.everipedia.org. It is the only prediction market built on EOS at the moment. 
We think it will likely surpass Augur's volume and usage in the coming months. This is all part of Everipedia's mission of bringing market dynamics to the knowledge space."
Crowdfund Insider: How prevalent do you think decentralized currencies will be in the next five or ten years?
Sam Kazemian: "I think we are seeing a clear rise of stablecoins and demand for true currencies in the crypto industry. 
Evidence is everywhere: Facebook announcing their stablecoin, DeFi lending and financial markets growing quickly, Tether being the #4 crypto on coinmarketcap as of yesterday. 
Stablecoins will be a huge part of the industry in the next 1-2 years."
Crowdfund Insider: Why are stablecoins important to the global economy? What are your thoughts regarding security tokens?
Sam Kazemian: "I actually think security tokens have been a pretty big dud. I haven't really seen their impact yet. No big securities token offerings have really done much or made big waves. 
I think that stablecoins and DeFi applications are the big financial innovation in crypto.
The main aspects of DeFi that I think are most important and will have a global impact are: decentralized loans, stablecoins, and money markets."
Crowdfund Insider: Do you think Facebook's Libra coin project will benefit the cryptocurrency ecosystem?
Sam Kazemian: "I think Facebook's foray into crypto helps the industry gain mainstream legitimacy since crypto can't be ignored now, but I'm not sure how much actual impact a semi-centralized stablecoin like Libra will have. 
The real interesting moves are being made by Square and Jack Dorsey. I really like what they are doing over there with Square Crypto and supporting Bitcoin development. That will do much more to bringing mainstream usage than Facebook's attempt."
Crowdfund Insider: What is the Frax team like and who are you working with?
Sam Kazemian: "A few guys from Everipedia are on the founding team of Frax including Kedar Iyer, CTO, and Travis Moore, full-stack engineer. We are also working with Stephen Moore who is co-founder and chief economic officer at Frax. 
Steve helps us with the economics and lending portion of Frax. He has extensive experience in DC and was a senior economic advisor to the Trump Administration. We really have a superstar team of crypto experts, economists, and developers for this."
Crowdfund Insider: What can we expect from Frax in the next few months?
Sam Kazemian: "We are working on releasing our MVP product by the end of the year. Our goal is to have ETH and EOS implementations ready for mainnet release. The goal is to have Frax stablecoins trading as soon as possible."

Sponsored Links by DQ Promote