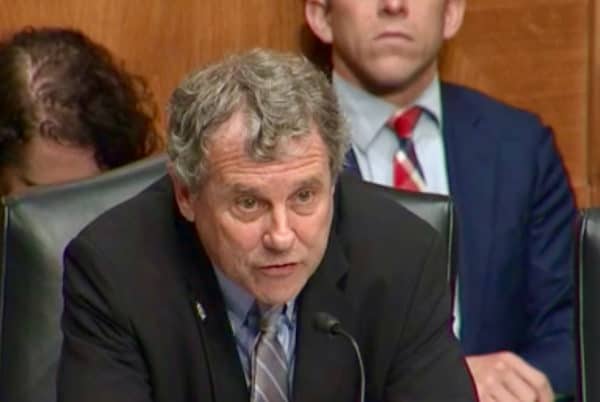 Letters from US lawmakers to members of the Libra Association asking them to, "carefully consider how your companies will manage risks before proceeding," as backers of a Facebook cryptocurrency called "Libra" may have spurned last week's corporate exodus from the project.
On Friday, October 11th, Visa, Mastercard, Stripe, Mercado Pago and eBay all exited as corporate backers of Libra.
PayPal left one week earlier.
All had previously signed on as participants in the company's Libra Association, a purported non-profit group for the overseeing of Libra, cryptocurrency payments network Facebook hopes will underpin its entire social network of 2.4 billion users by 2020.
Libra backers were expected make their membership official at a meeting in Switzerland later this month. Members were asked commit $10 million USD each towards development of libra crypto-c0ins, which would be backed by a basket of several currencies and bonds.
At present, the only payments company still backing Libra is PayU.
The letter to Stripe from US Senators Brian Schatz and Sherrod Brown is very grave in tone.
In it, the senators claim that Facebook, "has not provided a clear plan for how it will prevent Libra from preventing criminal and terrorist financing, destabilizing the global financial system, interfering with monetary policy, or exposing consumers to risks…"
They also claimed that in appearances before the US Congress, Facebook, "deflects the responsibility of addressing these risks on to potential Libra Association members."
The senators expressed a considerable lack of faith in Facebook's ability and even will with regards to containing risks spun out from the platform:
"Facebook is currently struggling to tackle massive issues, such as privacy violations, disinformation, election interference, discrimination and fraud, and it has not demonstrated an ability to bring these under control."
Facebook has also had trouble controlling egregious content, the senators contended, suggesting that payments enablement could exaggerate the harm:
"In fact, 12 million out of 18.4 million reports of child sexual abuse photos and videos around the world last year were attributed to Facebook Messenger. It's chilling to think what could happen if Facebook combines encrypted messaging with embedded anonymous payments with Libra."
The senators end their letter to stripe with an unmitigated warning of action if the risks of Libra are not meaningfully addressed:
"You should be concerned that any weaknesses in Facebook's risk management systems will become weaknesses in your systems that you may not effectively mitigate…If you take this on, you can expect a high level of scrutiny from regulators, not only on Libra-related payment activities, but on all payment activities."
---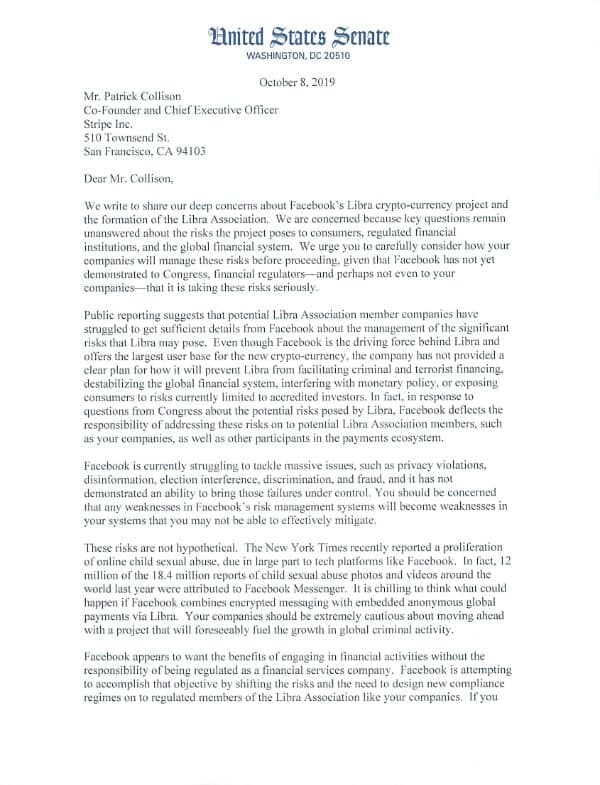 Sponsored Links by DQ Promote