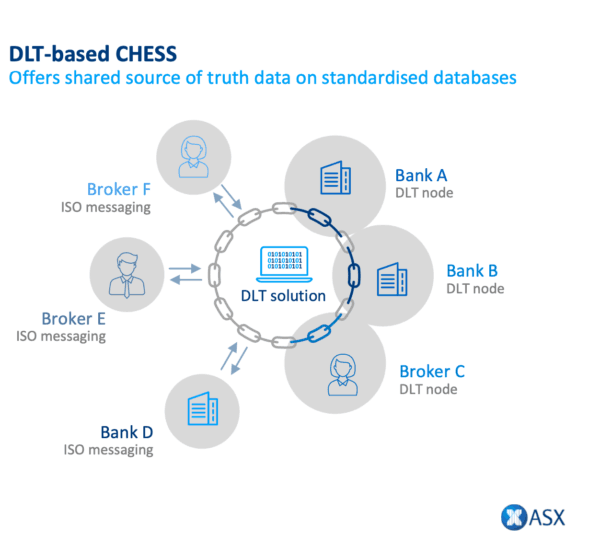 Chi-X, an Australian stock exchange that handles about 20% of the country's trades, is concerned that a new cost-cutting blockchain registry, settlement and clearing system being developed by rival ASX will enhance the ASX's market dominance over settlement, Reuters reports.
Chi-X, a subsidiary of New-York-based J.C. Flowers, is reportedly dependent on the ASX's current CHESS system and is the ASX's, "largest client and its only competitor."
The new system being developed by the ASX, says Reuters, "is one of the world's most ambitious of its kind, (and) will replace Australia's main bourse's Clearing House Electronic Subregister System (CHESS) into one using distributed ledger technology by April 2021."
Chi-X executives told media in a briefing that they believe the new system could exaggerate the ASX's dominance of trade settlement in Australia.
"There's a substantial moat around the ASX clearing and settlement business," said Chi-X General Counsel Michael Somes, "and the CHESS replacement project is perhaps making it bigger."
"It would be very difficult for the competition to bridge that moat – I'm not saying it won't happen… but it needs to be regulated as if it won't," he added
Somes called for the imminent creation of rules and procedures to help in the arbitration of competition disputes:
"There should be a legislative framework whereby the Australian Competition and Consumer Commission can act as an arbitrator on disputes…That should happen as soon as possible."
If the project at the ASX succeeds, "the move to blockchain will make the Australian Securities Exchange one of the biggest mainstream financial markets to use the relatively new ledger system, best known as the technology underpinning the Bitcoin cryptocurrency," Reuters states.
A spokesperson for the ASX said the dispute a "matter for government" and added the new system is being built in a compliant manner:
 "We are continuing to engage closely with government and regulators, including the ACCC, throughout our CHESS replacement programme. We are focused on building a platform for the future that will stimulate further innovation and competition."
Sponsored Links by DQ Promote