Ashley Alder, CEO of the Hong Kong Securities and Futures Commission told attendees at Hong Kong Fintech Week on Wednesday that Facebook's Libra has forced, "the international regulatory community…to get its act together very rapidly," regarding the financial stability risks of stablecoin cryptocurrencies.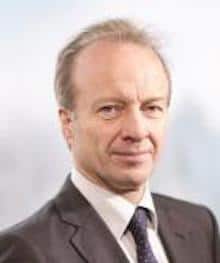 He also said Hong Kong will continue to allow unregulated cryptocurrency (Bitcoin, Litecoin, etc) trading platforms to operate in the region as long as they do not sell "securities tokens" (cryptographic tokens representing real-world assets).
"Stablecoins" are cryptocurrencies designed to maintain a stable value while mimicking real-world currencies such as USD.
Stablecoins are currently used to accelerate cross-border money movements, provide liquidity in cryptocurrency trading markets and, allegedly, to manipulate the price of certain cryptocurrencies.
Facebook announced in May that it plans to begin rolling out a Libra stablecoin network in 2020 across its social app of 2.4 billion users.
Facebook's announcement has induced a noticeable about-face among regulators, Alder noted, who had previously adopted often pro-innovation and variable stances towards cryptocurrencies:
"In 2018, the crypto world was seen to be of marginal importance to the global financial system. The Financial Stability Board, which is basically the G20's financial regulatory arm, concluded last year that, although blockchain 'currencies' such as Bitcoin were problematic from an investor protection angle, they did not yet pose any significant financial stability risks."
Most cryptocurrencies, "virtual assets," and security tokens can be traded on the Internet across national lines and 24 hours a day. For these and for technical reasons, regulators have found them confounding.
But with the advent of Libra, regulators now realize that a crypto network as vast as Facebook could enable unprecedented "regulatory arbitrage" and even undermine small local currencies, Alder said:
"If a retail stablecoin is approved in one jurisdiction, whether as a security, payment system, fund, trading platform or another category (or a combination of these), it could easily go global very quickly if it rides on the back of the huge user-base of a Big Tech platform. There are even fears that a global stablecoin could result in countries – especially in developing markets – losing control over their own currencies and monetary policy," he added.
Nonetheless, said Alder, despite the fact that "dozens" of crypto exchanges now operate in Hong Kong, for the time being, the Hong Kong Securities and Futures Commission will only exercise jurisdiction over cryptocurrency trading platforms selling security tokens.
Exchanges facilitating trades of cryptocurrencies only (and not security tokens) may continue to operate in an unregulated manner in Hong Kong if they wish, said Alder.
Compliant platforms in Hong Kong will be able to market themselves as regulated, he added, as global regulators work to combine forces:
"I should also emphasise that (local regulation) can only be an interim measure. The rapid evolution of the virtual asset sector cries out for new, comprehensive legislation which enables innovation benefiting investors and economies to flourish in an environment where new risks are addressed properly. And as I mentioned at the beginning, the game-changing proposals around stablecoins are likely to be a catalyst for accelerated thinking about an overarching, globally consistent set of regulatory expectations. "
Alder concluded by stating that, "The jury is still out on whether some virtual assets – especially those that have no intrinsic value – have a useful social function or can be considered as equivalent to conventional financial assets."
"But it is clear that if we do regulate operators in the virtual asset space, we should hold them to the same standards as the rest of the financial system," he said.
---
Sponsored Links by DQ Promote