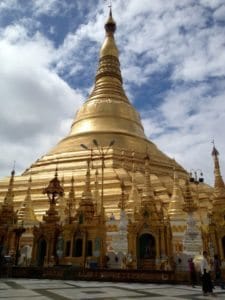 Mother Finance Co Ltd, the developer of the first digital lending app in Myanmar, and NearMe Digital Services, a local online services platform for retailers, have teamed up to offer credit to NearMe's agent and partner network.
Mother Finance is incorporated in the Republic of the Union of Myanmar, and operates as a licensed non-bank financial institution which offers small loans to clients through a mobile-based app. Mother Finance will be offering unsecured SME loans to NearMe.
NearMe presently has more than 50,000 partner stores in the country. Clients may borrow up to K500 lakh, according to Daw Theta Aye, CEO at Mother Finance.
U Linn Htike Aung, managing director at NearMe, stated:
"SMEs contribute a lot to the economy and this is an excellent way to help them grow quickly by making use of the latest digital technology."
NearMe offers a mobile-based app that allows clients to make different types of payments and purchases, including settling taxes and paying for public utilities. Users of the app can also pay for flight and bus tickets, and more than 40 other products and services.
Users normally make cash payments at convenience stores and other agents or partners supported by NearMe.
This deal presents a good opportunity for Mother Finance, as it plans to further expand its loan offerings to NearMe's nationwide SME network. Mother Finance will also be able to gather transaction data from its agents, in order to improve its services.
Daw Theta Aye remarked:
"We have been offering collateral-free digital loans to individual, both employed and self-employed as well as SMEs on our mobile app platform. We have provided our services to customers in every state and division within Myanmar. Expanding our offering to NearMe will facilitate us with collecting transaction data of agents and partners within their network." 
At present, Mother Finance clients are able to repay their loans at over 50,000 NearMe partner shops, which include City Express, Oasis, Denko Mini Mart, Lugyimin and eCity Phone outlets.

In July 2018, Mother Finance launched the country's first mobile app-based online lending solution. The platform currently serves more than 60,000 registered users and has issued over K3 billion ($2.1 million) in loans.

Sponsored Links by DQ Promote