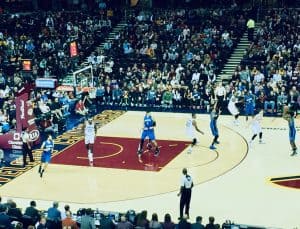 Cred, a cryptocurrency-based lending and borrowing service, is teaming up with professional NBA basketball player and businessman Spencer Dinwiddie. A special web page and service was launched on March 20, 2020 for Dinwiddie's fans who may use the Cred platform.
Cred allows users to earn interest on stablecoins (digital assets usually pegged to national fiat currencies) and other cryptocurrencies. The company has been offering a highly competitive 10% annual interest rate. Users may also use Cred's lending services by collateralizing their digital asset holdings.
The partnership between Cred and Dinwiddie aims to allow the NBA player's fans to earn interest on their stablecoin holdings.
According to the announcement:
"This partnership comes at a critical time, where I can educate my fans on the power of cryptocurrencies and blockchain while they earn interest on their digital assets."
Cred's representative told Cointelegraph that the lending plaform's services may only be accessed (without a concierge) by using a partner page.

As noted on Cred's official website, the funds are used to "lend and transact with a variety of customers, including retail borrowers and money managers with well-established track records."

The highest interest rates presently being offered via Dinwiddie's dashboard are 6% on Bitcoin (BTC). True USD (TUSD) stablecoin holders can earn 8% through the platform, provided that they aren't using Cred's native LBA token. The lending platform requires users to lock up their funds for at least a six month period. Users receive interest payments each month, and can choose to accept them in crypto or fiat currency.

A certain portion of the revenue from this promotion will reportedly be donated to the Dinwiddie Family Foundation, which offers academic scholarships to underprivileged students.

In September of last year, the NBA athlete announced the launch of Dream Fan Shares, a crypto token issued on the Ethereum blockchain. The initiative involves issuing "Professional Athlete Investment Tokens," which allow professional investors to buy securities connected to the financial success of the NBA star.

The initiative's very first security would have been Dinwiddie's professional basketball contract, however, the NBA didn't approve the project.

Sponsored Links by DQ Promote